The hype around STEM MBA programs is real. In recent months, several US business schools have secured a STEM designation for their MBAs to counter the persistent decline in applications to the programs.
Demand for US MBAs has fallen for the past several consecutive years, according to the Graduate Management Admission Council (GMAC). We've witnessed two top MBA programs being phased out, at the Univeristy of Iowa Tippie School of Business, and University of Illinois Gies College of Business, with more expected to follow.
US schools are chiefly concerned about the 13.7% drop in applications among overseas students—which they blame on the tightening of the H-1B visa program for skilled migrants in the US. Anti-immigrant rhetoric is also a factor. A group of 50 US business school deans sent an open letter to the White House in October, demanding looser visa rules for high skilled students.
Many deans see STEM designation as a temporary solution, since these courses give overseas students an additional 24-month stint in the country on top of their 12-month optional practical training (OPT). This gives them additional chances to apply for a H-1B visa, which has an annual cap.
It's attractive to overseas students: a GMAC survey found that 43% of STEM certified business master's courses had an increase in overseas applications in 2019, compared with 26% for non-STEM programs.
---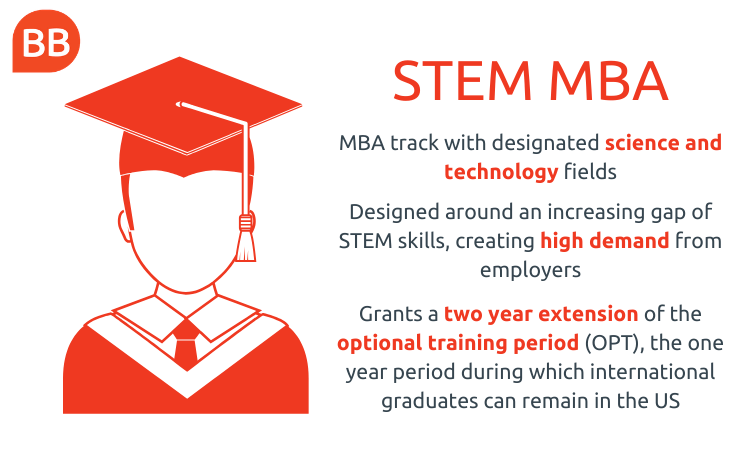 ---
Yet 53% of STEM courses reported declines in total applications (international and domestic) this year, suggesting that the programs have a limited appeal.
Suh-Pyng Ku, vice dean at USC Marshall School of Business, says it's too early to tell whether STEM designation can change the fortunes of US schools. USC secured the designation for its entire MBA program in May. Suh-Pyng expects a 5% increase in overall applications as a result. "STEM MBA visa benefits are a significant attraction for international students," she says.
Another primary driver of student interest in STEM programs is the content on statistical modeling, data warehousing, data mining, programming, forecasting and operations research. "These skills are becoming increasingly important to employers of all types," says Peter Johnson, assistant dean of the MBA at UC Berkeley's Haas School of Business, which has been STEM certified since November.
"The US Government created the STEM visa extension a few years ago as a way of ensuring that companies could meet their needs for highly skilled professionals in science, technology, engineering, and math," he says.
There were 700,000 tech jobs unfilled in the US in June, and Silicon Valley has long embraced overseas talent.
Given these benefits, Peter wouldn't be surprised to see more schools seek a STEM designation. "I've been contacted by peers at a number of MBA programs who were interested in learning about the process that made our program eligible," he says.
At USC, Suh-Pyng expects most top 20 US business schools to launch a STEM MBA program in the near future.
---
Given current evidence, it's difficult to say for sure whether the STEM certification can reverse the application slump in the US.
The STEM designation, however, is still a positive innovation that can benefit all students because of the courses' focus on data analytics, says Matt Merrick at Kellogg School of Management, whose MBA was STEM certified in November.
"This education will prepare students well for the jobs of today and the future."
---
Find out more about STEM MBA programs...
14 Top STEM MBA Programs In The United States—And How Much They Cost