Since establishing the world's first MBA program, Harvard Business School (HBS) has set a precedent for business education globally. A consistent chart-topper, the HBS MBA is ranked the world's best by the Financial Times.
Then there's the wealth of HBS notable alumni working for the biggest companies in the world, from Sheryl Sandberg at Facebook to former presidential candidate, Mitt Romney.
In the 2019-20 academic year, Harvard received 9,304 applications to its full-time MBA program. 732 enrolled in 2020 and the school gave every admitted student the option to defer and enter a later class.
The two-year, full-time MBA program offers candidates a general management education with a true focus on real-world business practices, with the opportunity to build their entrepreneurial mindset too.
So, what kind of return can you expect from the Harvard MBA?*
---
Companies hiring HBS MBA grads
---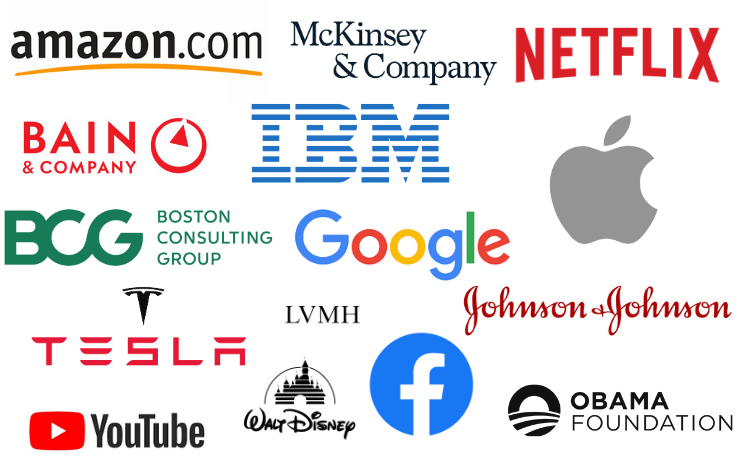 ---
HBS MBAs go on to launch careers with top companies worldwide. Apple, Facebook, and Google are among the top hirers of Harvard MBA grads. Big tech has become so dominant in our lives that the opportunity to snap up fresh HBS MBAs is a no brainer for recruitment teams from these firms.
Netflix and YouTube are also on that list. The two companies are ubiquitous in the world of streaming and entertainment, and so expect the trend of top MBAs entering these firms to continue.
Traditionally popular routes like finance and consulting are also among HBS MBA recruiters. Grads go on to land jobs at the big three consulting firms, Bain & Company, McKinsey, and Boston Consulting Group (BCG), as well as firms like IBM and Morgan Stanley.
Luxury and consumer goods are popular routes for HBS MBAs too, at the likes of Moët Hennessy Louis Vuitton (LVMH) and L'Oréal. Johnson & Johnson also hired HBS MBAs from the class of 2019.
Add to that mix The Obama Foundation, Tesla, and The Walt Disney Company, and HBS MBAs in 2019 found employment with some of the largest and most reputable organizations out there.
---
Harvard MBA graduate industry destination (%)
---
---
HBS Class profile
---
The typical HBS MBA class size is 930 students, but due to COVID-19 candidates were given the option of deferring entry: 732 enrolled in 2020. HBS is a highly competitive school to get into, with an acceptance ratio of around...
Register for free to continue reading
Please Enter the Code Below