Shawn Qing Xiao used to spend his days selling wind turbines.

He'd joined Shanghai Electric after completing his bachelor's in electrical engineering in the city. Over five years at the state-owned firm, he'd worked his way up to become a sales manager and office representative in Beijing.

Shawn was meeting his sales targets, but he soon realized he wanted a bigger challenge and that a career in sales wasn't in line with his future goals. Shawn wanted to step out of his comfort zone and explore his potential career options.

His decision to pursue the Tsinghua Global MBA Program, a collaboration between Tsinghua University School of Economics and Management (Tsinghua SEM) in Beijing and MIT Sloan, would change his career trajectory.

After completing his MBA, Shawn would go on to work for some of the world's biggest companies—including McKinsey and Chinese technology firm Tencent—and, most importantly, discover his true passion.
---
Why Tsinghua MBA?
While working for Shanghai Electric, Shawn started looking at opportunities elsewhere. "There were no big challenges anymore. I felt like I wanted to explore more on my career path," he says.
Aiding this decision was a conversation he'd had with some employees of McKinsey, who were involved in a project with Shanghai Electric. After asking for some career advice, they suggested taking an MBA.
Shawn's company sponsored him for a part-time MBA, but he realized that to make the most out of an MBA experience—accessing greater networking opportunities and the summer internship—he had to study full-time.
Shawn says he "didn't have to think much about it" when choosing the Tsinghua-MIT dual degree. Both Tsinghua and MIT have a prestigious engineering reputation that suited his background, and living in Beijing at the time made it a great fit.
Shawn spent his first MBA year in Beijing. He then decided to spend his second academic year at MIT Sloan in the US, where he studied for an MSc in Management, thereby earning the Tsinghua MBA-MIT MSMS dual degree.
Through Tsinghua's partnership with MIT, MBA students from both schools work together in teams during the China Lab, collaborating on a consulting project for Chinese companies.
At MIT, Shawn also had access to the MIT Sloan Action Learning courses, where students work to solve real-life business challenges. He says he developed a deeper understanding of global markets there, as well as potential opportunities abroad for Chinese businesses.
"You have the opportunity to really explore your career options on the full-time program. It's great for people like me who are seeking a career change," Shawn says.
"I wanted to move out of my engineering comfort zone to discover more about wider business and management. The MBA definitely lived up to that."
---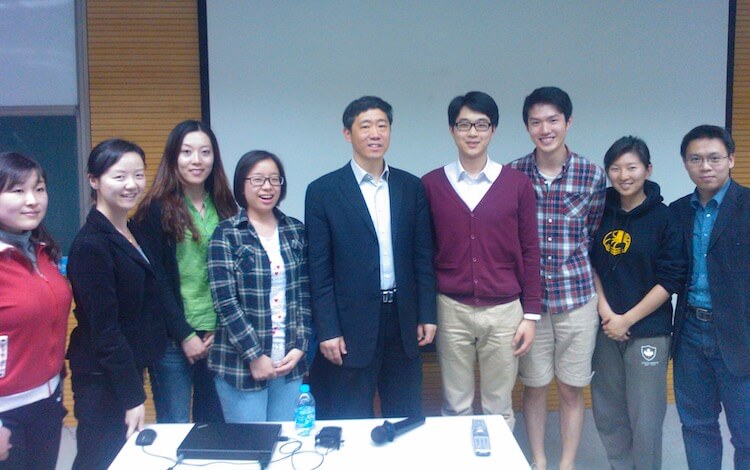 Shawn Qing With Tsinghua Professor David Daokui Li and MBA Classmates

---
MBA to McKinsey
In Beijing, Shawn took up MBA courses in operations, strategy, and data modelling, which provided a learning experience that quickly built upon his real-world business experience. The Tsinghua MBA, he says, taught him transferable skills that would prepare him for work in a variety of industries.
Alongside him were MBA colleagues with varied business backgrounds, all willing to impart their own knowledge and experiences.
"On the program I met a bunch of great classmates that shared the same targets as me," Shawn says. "Getting to know them really broadened my bandwidth."
After graduating, Shawn managed to get a job at McKinsey. He recognizes that without his MBA, it may not have been possible to land the role. The consulting firm specifically looks to MBA grads for its hiring.
McKinsey is a great gig for an MBA—consulting provides an ideal platform to apply your skillset to a wide range of businesses, with immediate and tangible results. McKinsey, as part of the consulting Big Three, also offers top salary prospects and consistently ranks as one of the best companies to work for.
It looked like a good fit for Shawn too. Working within changing sectors like real estate, it would provide exposure to different businesses. But in the end, he moved on in pursuit of a more specialist career.
"To me, if you choose consulting for your post-MBA career you still aren't certain about which industry you want to specialize in," he says. "For some graduates consulting really sticks, but in the end for me it just didn't make sense."
---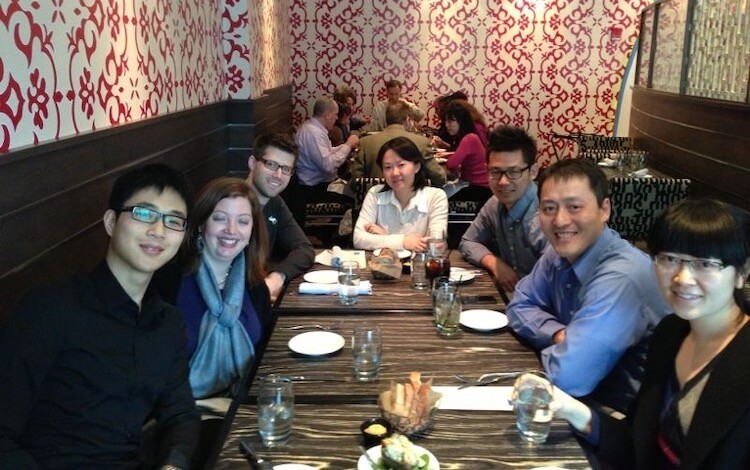 Shawn Qing with MIT Master of Science in Management Studies Classmates

---
Dream MBA job at Tencent
Shawn left McKinsey for Schneider Electric. As director of strategy, Shawn looked after their Chinese arm of the business. It was a big step up and a role he embraced, but in the end he would only stay for one year.
"It was a packed twelve months!" he says. "My time at Schneider was good, but again, it's about the passion. A stable manufacturing engineering job wasn't as exciting as I thought.
"So when the gaming industry came calling, I thought: Why not have a conversation and see how it goes?"
Tencent is the Chinese multinational conglomerate which owns social media platforms WeChat and QQ, and became the first Asian company valued at over $500 billion. Tencent also owns Riot Games, the company behind the popular League of Legends, one of the world's largest eSports.
When Shawn received the surprise call, Tencent was the company on the other end of the phone.
A Tencent head-hunter reached out to Shawn directly to see if he was interested in joining. Not concerned with his lack of industry experience, they were instead looking for someone dynamic and willing to try new things. Shawn duly made the leap.
"The organization is so young and agile; it keeps changing and evolving," Shawn says. "You still have the positives from McKinsey—new and different challenges. But, simultaneously, you have the chance to build your expertise within one industry."
After almost three years at Tencent, Shawn says he's finally found the perfect fit. As strategy director, he's tasked with building Tencent Game's market share internationally—a huge challenge but one he's optimistic about.
"Although Tencent is a big company, it acts like a young internet company. I think we have the passion and power to grow outside of China!" he says.
Looking back on his MBA experience, Shawn says that, along with the core business knowledge he gained, it's the power of the Tsinghua MBA network that he still taps into today.
"If I need to find a study for my work, for example, I can easily find someone working in the relevant industry," says Shawn. "My Tsinghua MBA classmates have provided me with great resources that I've leveraged throughout my career."
Related Content: