Dan Black, global recruiting leader at Ernst & Young (EY), aims to hire 200-300 MBA graduates globally before July 2021. Despite the impact of the coronavirus pandemic, Dan's goal is to keep MBA hiring levels consistent with the last recruitment cycle.
While COVID-19 has changed the hiring process at many global firms, it's not impacting the value employers place in MBA graduates. According to the Graduate Management Admission Council, hiring of MBA talent is expected to rebound in 2021, with MBAs in consulting and finance earning average projected salaries of between $115 to $145k.
EY hired over 80,000 people in the last financial year (July 1, 2019 to June 30, 2020); half of those were graduate hires. But, especially for MBA graduates, and with the added impact of the pandemic on the MBA jobs market, competition for roles is fierce.
BusinessBecause caught up with Dan to find out more about applying for MBA jobs at EY during COVID-19.
---
COVID-19 Impact on EY Recruitment
EY recruits on-campus at most top-ranked business schools, although is increasingly accepting candidates from MBA or master's programs at lesser-known schools too. Business school students generally receive offers from EY between nine and 15 months in advance of joining the firm.
The main impact of COVID-19 is that EY has not yet confirmed its hiring plans for 2020-21. While plans are generally in place by September each year, with coronavirus and the upcoming US presidential election, 2020-21 recruitment targets have not yet been finalized.
---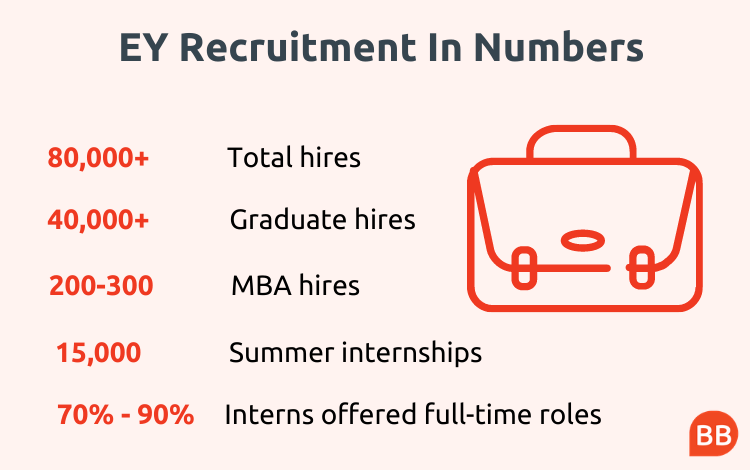 Register for free to continue reading