Starting a career as a consultant is the end of goal of many MBA graduates. Consulting is among the most popular industries for MBA talent eager to put their newfound business knowledge to the test.

Joining a consulting firm like Boston Consulting Group (BCG)—one of the Big Three consulting firms—can be seen as the pinnacle of an aspiring consultant. The firm is often listed among the best consulting firms to work for.

So what is it actually like being a BCG consultant?
---
Working as a BCG consultant
---
Varied project work
As an entry level BCG consultant you'll typically work on one client project at a time, explains Eugene Goh (pictured), who worked as a principal for the firm for more than eight years.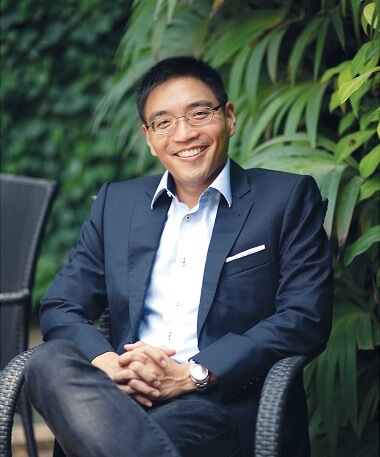 A client project will require you to get to the bottom of a particular problem a company is facing and work together as part of a BCG case team to solve that issue.
Once you get beyond project leader and work towards partner you might then run multiple projects at one time.
The work is varied. Eugene worked on projects across banking, telecommunications, the public sector, and shipping. He also spent six months on an internal BCG research project.
"I got to work with the World Economic Forum," he says. "We put up two World Economic Forum reports on sustainability in emerging markets.
"It was doing something more intellectually challenging that I really enjoyed. You get to work with some of the smartest partners who think about things very differently."
Working at BCG also provides the opportunity to undertake client and social impact secondments, as well as special projects in your community.
"This unique combination of opportunities and support allows you to learn, grow, and explore your passions with the comfort and safety of knowing you will be valued for you are and the perspective you bring no matter what path you choose through BCG," says BCG MBA recruiter, Angela Michalik.
---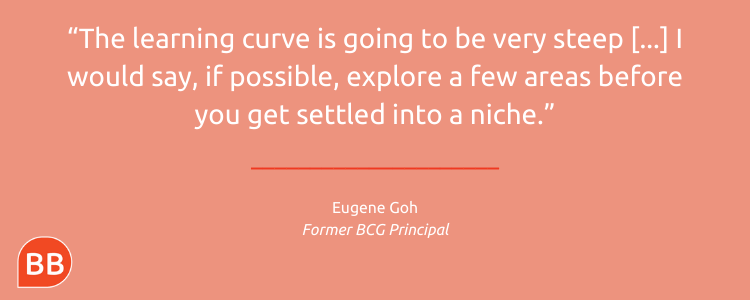 ---
Connections with colleagues
BCG is all about the people. Eugene fondly recalls the camaraderie between colleagues. "You were pretty much guaranteed that if you were meeting other BCGers you would get along," he says.
Eugene notes that he'd often bump into a colleague in the corridor and ask for their help on a problem. "People will set aside their own stuff to spend time with you drawing on board to work ideas out," he says.
"It's that kind of thing that might seem simple but to me were really the most enjoyable discussions I had."
Work life balance
It's common to come across stories of terrible work life balance in the consulting industry. Long working hours, no time for breaks, burn out. But reviews of work life balance at BCG are mixed, according to Glassdoor.
Whereas 313 reviews claim 'long working hours' as a negative aspect of work at the firm, 111 reviewers say there's a 'good work-life balance' at the company. One review also says that work life balance is being increasingly prioritized, a positive step if true considering the increase of burnout and stories of extreme work culture during the pandemic.
Your work life balance is likely to depend on what type of work you're doing. As a BCG consultant working on a client project, you can probably expect your hours to increase as you prioritise working and being available for your client. Secondments or internal research work, although still demanding, is likely to require less travelling and less time on site with a client.
Challenges
The most challenging thing about working as a BCG consultant is finding a rhythm that works for you, according to Angela.
"Sometimes you need to prioritize based on what you're most passionate about and what your schedule allows you to do," she says.
Figuring out where to specialize can also be tricky. Eugene recommends trying out different functions and industries before making your decision.
"The learning curve is going to be very steep and I think the more variety you have tends to help you rather than over specializing," Eugene says. "I would say, if possible, explore a few areas before you get settled into a niche."
---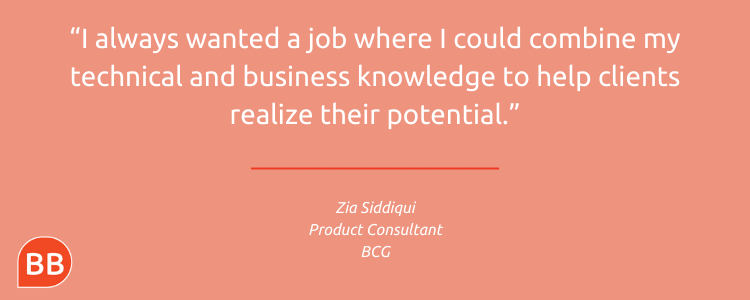 ---
BCG consultant career & salary progression
---
If you're an MBA consultant working at BCG you'll typically have a clear career trajectory, as you take on more client and BCG leadership roles, and, as Angela says, "ultimately take ownership and shape the direction of the firm."
The typical BCG consultant career path is:
→Associate (Undergraduate hire)
→Consultant (MBA hire)
→Project Leader (two years post-MBA)
→Principal (four years post-MBA)
→Partner (six years post-MBA)
→Managing Director & Partner (eight years post-MBA)
Each stage sees a healthy compensation increase, with the typical BCG consultant salary hitting six figures.
An incoming associate can expect a salary of $100K, while an incoming consultant can expect a salary of $175,000 per year, according to BCG figures. Salaries increase with each promotion.
---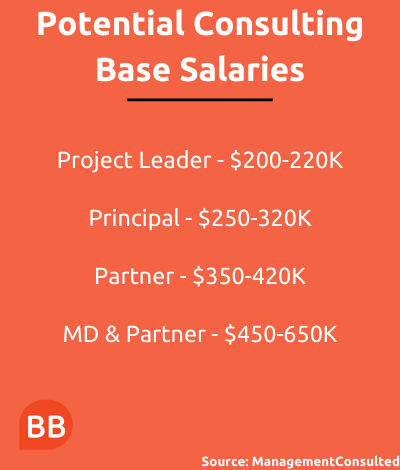 Data sourced from Management Consulted
---
Your overall compensation package at a top consulting firm will also include performance and signing bonuses. Master's grads can expect a performance bonus of up to $18,000 and a signing bonus of $5,000 at BCG, while MBAs can expect to earn a performance bonus of up to $41,250 and a signing bonus of $30,000, according to Management Consulted.
---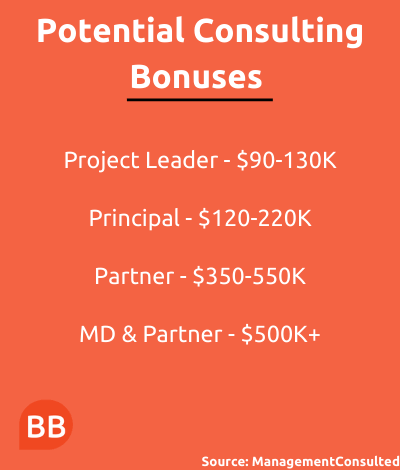 Data sourced from Management Consulted
---
There are also various work perks BCG consultants receive.
According to Management Consulted, alongside huge salaries, Masters graduates can expect 15 days per year of paid time off at a firm like BCG. They also get up to $8,000 for relocating, and up to $4,400 per year dropped into their 401k retirement account as part of a profit-sharing initiative for employees.
MBA hires are also given 15 days of paid time off a year at BCG. MBA hires can also expect between $2,000-and-$8,000 for relocating, and $10,312 per year into their 401k retirement fund.
Launching your career as a consultant after an MBA will take hard work and determination. But once you're there, the benefits are clear.
Becoming a BCG consultant will offer you the chance to work across functions and industries, and to give back to your local community. You'll also be surrounded by a group of ambitious likeminded peers, all while earning the eye watering salaries that come along with a career at a top consulting firm like BCG.
---
Next Read:
BCG's Consultant Recruiter Tells You How To Get Hired!