What questions come up in an MBA interview? What are the most challenging MBA interview questions and answers you should respond with?

When I was informed that I was being granted an MBA interview for admission to BYU Marriott School of Business, I knew I had successfully navigated the most challenging part of the application.

Getting the admissions committee to think favorably of me using only a few small documents (resume, MBA essays, transcript, etc.) isn't easy.

However, the MBA interview is a make-or-break experience and while I knew that if I did well, I would be in great shape. I also knew that if I wasn't impressive my hopes of getting in would be dashed.
---
How do you prepare for your MBA interview?
Part of my preparation included talking with those individuals who had not only been accepted to BYU, but who had had their admission interviews with the same member of the committee that I had been assigned to.
Their advice put me in a position to knock my interview out of the park, and I recommend following that process of preparation even if you don't know anyone at the school you're interviewing for (I didn't know them either, but they were more than willing to help).
---
What to wear for your MBA interview?
I made sure that I took care of all the low-hanging fruit. I got a haircut, shaved, wore a suit and tie, and made sure to arrive early (even though it was virtual).
---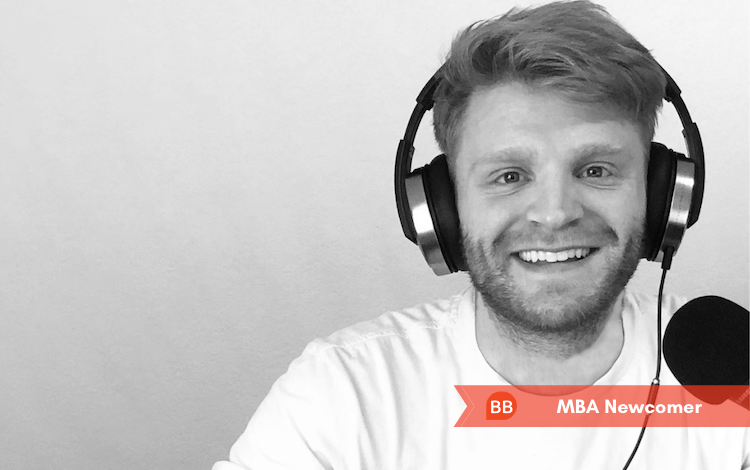 ---
How did your MBA interview start?
My interview began with small talk. Make no mistake, this is part of the interview!
My interviewer was a terribly busy person, so is yours, they don't typically have time to kill by just shooting the breeze. Small talk is not really small talk at all; it's an opportunity for your interviewer to see how well you can communicate and how easy you are to be around.
They care because teamwork is a massive aspect of business school and so they want students who are confident and likeable.
---
My MBA Interview Questions and Answers
---
Here are the MBA interview questions I was asked and my answers:
Tell me about yourself.
After exchanging pleasantries, my interviewer dove right in with another question that we sometimes don't realize is a huge part of the interview: 'Tell me about yourself.' The last thing you want to say is, 'what do you want to know?'
One of the most common MBA interview questions, 'Tell me about yourself' should be prepared for just as much as any other question.
Feel free to share personal interests that are unrelated to your business acumen, those are valuable because they help you become human to this individual (who by the way is also human) who is trying to get to know you in a short period of time.
Go through your work history briefly (they have already seen your resume) and talk about what motivates you. Bring it full circle and land on how you got to this point of applying to business school. This is your chance to tell your story!
---
Why the business school?
My answer: BYU is the only school I applied to. I am so committed to its mission and foundational principles, and I believe there is a higher purpose in what we do with our careers than just making money. BYU exemplifies that same belief. ­
BYU is a religious institution so this answer may not translate to every university. The idea is to deeply understand the school you are interviewing with, find common beliefs, and speak to those points.
The goal is not to say what you think they want to hear, at least not entirely. It's to say what they want to hear but you have to believe it yourself. Be real, be authentic.
---
Read: Answering MBA Interview Questions: 4 Mistakes To Avoid
---
What are your long-term goals?
My answer: My goal and dream is to become a successful entrepreneur. I want to start and run my own business(es) and create an environment where employees can come to work and not feel like they're trapped in a job they hate. I want to provide value to customers and be able to have my hand in every piece of a business.
One of the biggest MBA interview questions that an admissions committee wants to have answered is where you would go from their institution. They want passionate leaders who know what they want. This is not a time to be wishy-washy about your future.
---
What is a question that you prepared for that I haven't asked?
My answer: We talked about why I want to come to BYU and what I will do after I graduate, but we haven't really talked specifically about why I want an MBA. I have tried my hand at a few businesses with absolutely no success whatsoever. I hate that feeling and I recognize the need that I have to learn the things I didn't know I didn't know. I'm not interested in adding 'MBA' at the end of my name in LinkedIn, my purpose isn't to get the piece of paper. My purpose is to get the education, to truly learn and set myself up to succeed. ­
I'll be honest, this one took me by surprise. But thankfully, I did have thoughts prepared for questions he hadn't asked and I felt like this was the best one to highlight.
---
What is the last book you read?
My answer: The Seven Habits of Highly Effective People, by Stephen Covey.
A curveball MBA interview question! This is a question I expected because of my conversations with previous interviewees. If I hadn't spoken with them first, this question would have caught me dead in the water.
---
Common MBA Interview Questions
---
These are the MBA interview questions I was asked and the answers I gave, but questions will vary depending on the school you apply to and your interviewer.
Here's a list of common MBA interview questions. Practice your answers to these questions ahead of your interview date to be well-prepared for your MBA interview.
---
Tell me about yourself.
Why do you want to pursue an MBA?
Why now?
Why this business school?
What are your strengths and weaknesses?
Tell me about a challenge or failure you overcame in work/personal life and what you have learned from the experience.
Explain a difficulty or conflict you experienced as part of a team.
Discuss a time when you have been a leader.
How would your colleagues describe you?
What are your short and long-term goals?
How will you add value to the MBA program?
Do you have any questions for me?
---
Our MBA Newcomer, Ryan Price, is the host and founder of MBA Secrets and starts his full-time MBA at BYU Marriott School of Business in the fall. We follow Ryan through his MBA journey, giving you the inside scoop on life as an MBA student.
Read more blog entries from our MBA Newcomer