Like all postgraduate business degrees, the salary you earn after completing an Online MBA is a key factor when considering where to apply to business school. While often cheaper than full-time programs, Online MBAs still require serious investment, with tuition at some of the top programs topping $100,000, according to our Online MBA Guide 2021.
If you're self-funding, your earning potential after graduation is a key indicator of how long it'll take you to pay back your tuition loan.
Graduates at some schools achieve salary increases as high as 45% after graduation, and some go on to earn over $200,000 three years out of school.
Here's what you can expect to earn after completing an Online MBA.
---
Download the BusinessBecause Online MBA Guide 2021
---
Online MBA | Salaries
The UK's Warwick Business School ranks first in the Financial Times Online MBA ranking. Graduates from the distance learning MBA program see their salaries rise by as much as 35% on average three years after graduation.
With huge average salaries of $207,725, Warwick students earn the most of all Online MBA graduates in FT's ranking, which includes 15 business schools. When looking at the amount graduates earn three years after their Online MBA, fellow UK-based Imperial College Business School comes in second in the 2021 rankings, while University of North Carolina's Kenan-Flagler Business School is in third place. Graduates from both schools earn around $185,000 three years after graduation.
Across the top Online MBA programs, graduates from the University of Nebraska-Lincoln had the lowest average annual salary three years after graduation, at around $100,000. Nebraska-Lincoln students did earn a 28% salary increase after graduation though, placing the school in the top 10 for salary increase.
Students at MIP Politecnico di Milano School of Business in Italy saw the highest salary increases. The average salary for graduates of $153,680 three years after business school was 45% higher than students' average salaries when they began the course.
---
Online MBA | Value for money
Most Online MBA students across the top 15 schools saw salary increases of 30% or more within three years of graduation. This makes enrolling in a program a worthy investment likely to increase your earning potential.
Picking the right school can also make a big difference to your return on investment, as tuition costs vary considerably between programs and regions. US schools in particular charge substantially higher fees than Europe and the UK.
---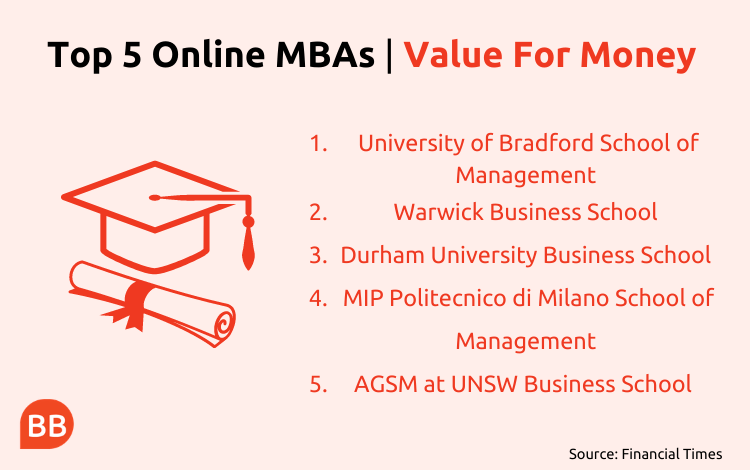 ---
The Financial Times gives each program a value for money ranking, calculated using the average alumni salary figures as well as total program costs including tuition and fees.
In 2021, the University of Bradford School of Management had the highest value for money ranking. Despite the program's low cost at around $25,000, alumni still earned $147,697 on average three years after graduating.
Unsurprisingly, Warwick Business School's exceptionally high average alumni salaries and relatively low cost saw the program take second in terms of value for money. Durham Business School came third, with fees around $33,000 and average salaries around $139,000. The top three programs for value for money were all based in the UK.
The exceptionally high fees at US-based schools didn't equate to substantially higher salaries, meaning the three lowest ranking schools for value for money were all from the US.
University of Utah's David Eccles School of Business ranked last due to its relatively high fees of $58,800 and comparatively low average salaries of just $109,250. Babson College ranked 14th out of the 15 schools, while the most expensive program on the list, University of North Carolina's Kenan-Flagler-Flagler Business School's Online MBA program, ranked 13th.
---
Online MBAs do also come with other substantial benefits, such as greater flexibility and the ability to continue working while you study—which can also make paying tuition fees less of a burden.
In terms of the purely financial benefits, an Online MBA will give your salary a significant boost without requiring you to break the bank on a $100,000+ MBA program.
---
The world's best Online MBA programs
---
---
Next Read:
Download the BusinessBecause Online MBA Guide 2021
Please Enter the Code Below