Once an outsider in the MBA market, the Online MBA is perhaps the most disruptive influence for MBA programs today. The degree has firmly established itself as a viable option for business school candidates.
In our BusinessBecause Online MBA Guide 2021, we tell you everything you need to know about applying for an online MBA and list our best online MBA programs for 2021. We guide you through what you need to consider when choosing a program, and what materials you'll need to pull together to apply.
In 2019, 50% of Online MBA programs reported growth in application volume. The COVID-19 pandemic really lit the touchpaper for Online MBAs though. In 2020, 84% of Online MBA programs reported growth, the highest change across any type of degree.
Yet the context has changed. Many business school campuses plan to fully reopen as the pandemic subsides. Many candidates have "Zoom fatigue" and crave an in-person experience.
So, can the popularity of the Online MBA persist? Or will the boom in applications be short lived?
---
Considering an Online MBA?
Download our Online MBA Guide 2022
---
---

---
The emergence of hybrid MBA programs
As many full-time MBA programs moved online, students who may not have considered studying online suddenly saw the benefits. The 2021 MBA.com Prospective Students Survey found that just over a fifth of students were more likely to consider online learning as a result of COVID-19.
"The fear factor is gone. More people know from their own experiences that they work, learn, and collaborate online, and that it's possible to create, build relationships and network online," says Amy Foster, program director of the Online MBA at UNC Kenan-Flagler Business School.
For many, however, Online MBAs can't fully replace what a full-time MBA can offer—whether that's authentic networking or immersive learning. Instead, there's growing momentum behind a hybrid model, where student learning is split between online and the classroom.
Interest in hybrid programs has doubled between 2018 and 2021, from 10% to 20% of candidates, according to GMAC's survey.
"An increase in preference for hybrid learning shows that prospective students are looking for an optimum balance of online and in-person experience," explains Rahul Choudaha, director of industry insights at the Graduate Management Admission Council (GMAC).
Hybrid programs offer the best of both worlds: the flexibility and accessibility of Online MBAs with the tangible physical benefits of a campus-based program.
Warwick Business School's Distance Learning MBA has topped the Financial Times Online MBA rankings since 2016: unlike 100% online programs, the program supplements its primarily online tuition with select opportunities for face-to-face interaction.
Pietro Micheli, course director of the Warwick Distance Learning MBA, believes that even online MBA students crave and benefit from this in-person experience. "It's invaluable for students to put faces to names and build friendships and contacts that last a lifetime," he says.
So, will hybrid programs replace Online MBAs?
---
The Online MBA candidate pool
The steady growth of Online MBAs prior to the pandemic indicates their long-term popularity, even compared to hybrid programs.
The main reason behind this, insists Vlerick Business School's Online MBA program director Steve Muylle, is that 100% online MBAs attract an entirely different type of candidate. "These students seek maximum flexibility, they don't want to go anywhere to study," Steve says.
Choosing an Online MBA is clearly influenced by lifestyle and circumstances. Compare the average age of Vlerick's full-time MBA, which is 30, and for its Online MBA, which is 37. The online program is drawing in candidates who are more settled, either in their careers or family life, and seek an online degree to exist alongside that.
Steve believes that Online MBAs, rather than drawing away prospective full-time candidates, have increased the overall pool of applicants, creating opportunities for students who otherwise wouldn't be doing an MBA. This would suggest continued growth after the pandemic.
What's likely is that rather than seeing the erosion of Online MBAs, we'll see their increased integration into other program types. This is already increasingly true in programs that offer "liquid learning": offering students the choice between synchronous (studied online and at specific times), asynchronous (studied online, in your own time), and in-person learning.
---
New possibilities in online education
Through embracing change and innovation, Online MBAs have the power to meet the needs of new business school candidates, and to provide a template for a growing number of hybrid programs.
Online MBAs have a large scope for personalization. MBAs are currently "one size fits all", Steve from Vlerick says, and aren't oriented around the individual. Through advanced data collection and machine learning, there's a great opportunity for Online MBAs to be shaped around the learner.
---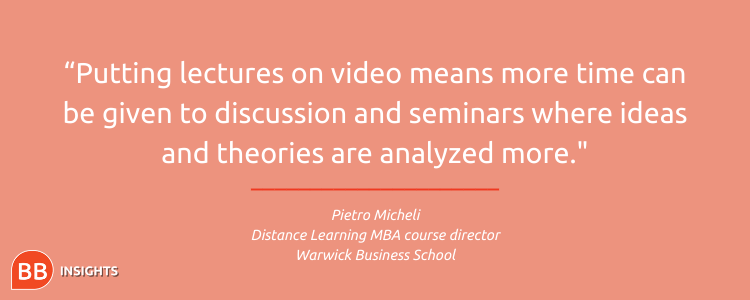 ---
Online programs can also drive forward flexibility around education. Pietro from Warwick foresees a move towards "on-demand" tuition: a Netflix-type model for business education in which lectures and resources are all available online, 24/7. In the long term, this could seriously disrupt how all MBAs are structured and delivered.
"Putting lectures on video means more time can be given to discussion and seminars where ideas and theories are analyzed more. It also frees up time for innovative learning—such as using drama, acting out case studies, music, design—to bring learning to life," Pietro says.
Technology could also make Online MBAs more immersive. Using virtual reality (VR) and augmented reality in an online teaching context could provide a richer, more dynamic form of interaction for those studying online. It could also be an antidote for Zoom fatigue.
Case studies could become fully immersive through VR, while classrooms could be recreated entirely through a headset. "As these technologies become cheaper and more accessible, we'll be able to leverage these on our programs," Pietro says.
---

While many MBA students will choose to return to campus, there's no doubt that traditional formats of the MBA are embracing flexibility. Programs now allow you to choose where, when, and how you want to study.
Online MBAs will continue to offer a novel form of flexibility and accessibility when it comes to studying. They will attract candidates who wouldn't have previously considered online learning, and candidates who wouldn't ordinarily apply for business school. The integration of online teaching into hybrid MBA programs also offers the best of Online and full-time MBAs.
Powered by new technology and developments in how education is delivered, Online MBAs look likely to sustain their popularity and meet growing demand for business education.

---
Next Read:
Online MBA Guide 2022 | Everything You Need To Know About Online MBAs
Please Enter the Code Below