Download the free Online MBA Guide 2023, created by BusinessBecause in partnership with Georgetown University's McDonough School of Business, where we reveal everything you need to know about Online MBAs with key advice from admissions experts, faculty, and alums.
In our guide you'll find a breakdown of what you need to know about studying an Online MBA, key information about your application, the major benefits of an Online MBA, and a list of the world's best Online MBAs in 2023.
---
Considering an Online MBA?
Download our Online MBA Guide 2023
---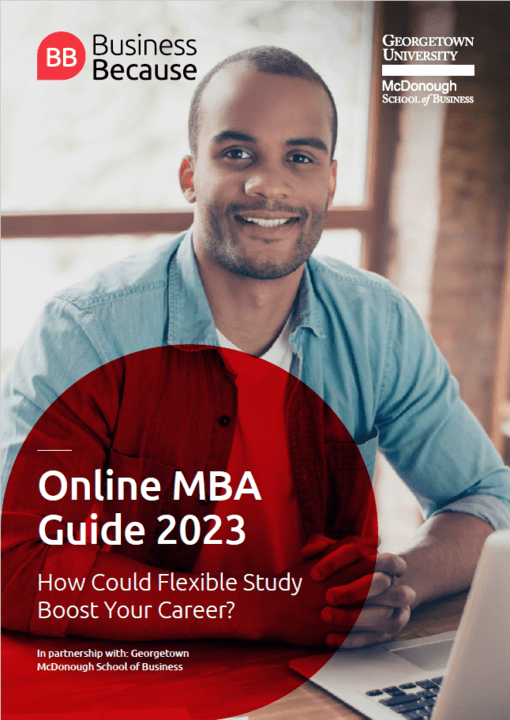 ---
Online MBAs: What you need to know
---
→ 60% of global recruiters view grads of online and in-person degrees equally
→ 49% is the average % of international students among the Financial Times top 10 programs
→ 31% is the average salary increase among the FT top 10 Online MBAs
→ 82% of companies are adopting flexible or hybrid working—similar to Online MBA delivery
---
Key advantages of an Online MBA
---
We at BusinessBecause witnessed how Online MBA programs grew in popularity during the pandemic. But even now that campuses have reopened and in-person teaching has returned, many students are still opting for Online MBAs and top business schools are adding online options.
In our free BusinessBecause Online MBA Guide 2023, we reveal the key advantages that are continuing to attract students and drive the growth of Online MBAs.
---
⇨1. Flexibility to balance work/home life
An Online MBA gives you the flexibility to prioritize your personal life as well as continue your work.
Many programs offer the opportunity to study over a number of years, allowing you to balance your professional, home, and learning life.
"Flexibility is a key advantage of an online MBA as you can study from wherever you are in the world at a time and place to suit, and around full-time working and other commitments, and you won't be limited by choosing a school within commuting distance," says Karla Litton, business development manager at Warwick Business School.
---
⇨2. Develop a range of skills and a transferable skillset
The online MBA qualification will give you a range of skills, both technical and soft, that will make you an asset at companies across the world.
As with a full-time MBA you take both core and elective classes. Core courses consist of business fundamentals such as Operations Management, Leadership Communication, Marketing Analysis, and Management.
Electives are numerous and often fall under categories including Finance, Accounting, Marketing, and Management.
---
⇨3. Boost your earning potential and career prospects
If you enroll in a typical, full-time, on-campus MBA you'll have to leave work while studying.
That means forgoing your salary for an extended period of time, plus added expenses of travel and living expenses. Along with generally cheaper tuition fees an Online MBA gives you the opportunity to continue earning while you study.
Enrolling in an Online MBA can give you access to a wide range of top jobs. Graduates of Financial Time's top ranked Online MBA, IE Business School, see a 44% salary increase after graduation.
Many grads go on to work in high-paying industries like consulting and finance, with world renowned companies like Amazon, EY, and JP Morgan.
Further illustrating the benefits, 60% of global recruiters say they view online MBA grads and in-person equally.
Related Content: