Technological innovation and digital transformation are transforming the way we work in the 21st century. Advancements in cutting-edge areas like artificial intelligence (AI), automation, and data usage are driving rapid change.

Experts estimate that, by 2030, AI will drive a $17.5 trillion increase in global GDP; 63% of CEOs also believe AI will have a larger impact on society than the internet.

ESMT Berlin—one of Europe's top-ranked business schools—plans to help students tap into opportunities in these emerging industries with a new Master's in Analytics and Artificial Intelligence (MAAI).
---
ESMT Berlin Master in Analytics & AI | Curriculum
The ESMT Master's in Analytics & AI is scheduled to launch in September 2023. The school targets graduates with up to 18 months of work experience and a solid prior understanding of quantitative subjects, tech, and coding.
"We don't want graduate engineers, or coding experts, but those who will lead tech teams to make the right decisions for their companies," explains Roland Siegers, director of early career programs at ESMT.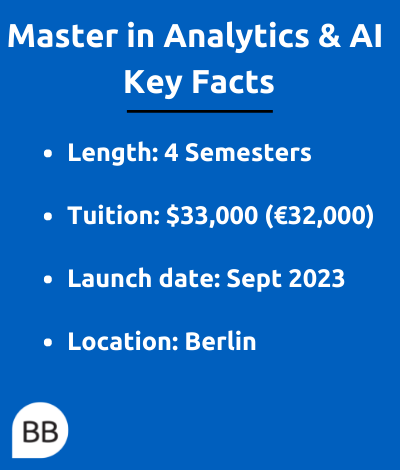 The curriculum exposes students to a series of in-depth core modules from both the computer science and business disciplines. These include: Machine Learning Basics, Predictive Analysis, Advanced Decisions Analysis, or Data Visualization.
In their second year, students will be able to tailor their studies according to their interests by choosing from a range of elective modules.
If you choose to deep dive into data and analytics you may study People Analytics, Health Analytics, or Supply Chain Analytics. Alternatively you could take courses in fields such as Innovation, Entrepreneurship, Finance, and Global Management
"Students will be accompanied by our Career Services team who will help them choose the right courses according to their preferences," Roland explains.
The MAAI curriculum also offers students experiential learning opportunities to further develop their skills. Over the summer, students are required to undertake a three-to six-month internship with either an analytics or tech-based company, to put their theory into practice.
At the end of the program, students must also complete a Data Analytics Consulting Project at an ESMT Corporate Partner. This involves working with companies facing complex data-related challenges.
Students interested in data applications in finance will also gain the opportunity to join an optional two-year Portfolio Management Program alongside their MAAI.
---
Download Our Master's Survival Kit 2022
---
Why a Master's in Analytics & AI?
With data analytics and AI fuelling transformation across the business landscape, it's important that those aiming to have successful managerial careers understand the basics of management in a tech-driven world.
Today, if companies want to gain a competitive edge, they will need managers trained to lead in a technology-enhanced framework, Roland says
With it's new cutting-edge Master's, ESMT hopes that graduates will be able to leverage the necessary quantitative and managerial skills to create value through data-driven solutions.
"[ESMT] wants to graduate future leaders who understand enough about these technologies to hire the right people, understand the business opportunities, but also the limitations and dangers," says Roland.
Application for the Master's in Analytics and AI starts November 1st 2022, and ends on July 31st 2023. Early applicants who apply before March 31st will benefit from a $2.1k (€2,000) tuition reduction, with the total program costing $33k (€32,000).
ESMT Berlin is launching the MAAI alongside two other new Master's programs, a Master's in Global Management and a Master's in Innovation and Entrepreneurship.
---
Next Read:
Master's Survival Kit 2022: 10 Things You Should Know Before Going To Business School