This page has moved. Check out our new page for live coronavirus updates.
---
The coronavirus pandemic is disrupting business schools and students globally.
COVID-19 is closing campuses, disrupting study schedules, and creating a challenging environment for anyone considering an MBA or business master's degree.
But there's also a bright side to the coronavirus outbreak, with business school students and staff coming together to support each other through the crisis.
Here, we update you daily about the impact of coronavirus on business schools, pooling the best information from social media channels and b-school websites, and linking to useful resources on BusinessBecause, so you can find everything you need to know in one place.
---
Latest news summary:
LIVE: GMAT testing impacted by coronavirus
INSEAD dean tests positive for COVID-19
Wharton launches coronavirus course
---
Latest updates:
---
March 27th
---
LBS Alum Heads Up OECD Efforts In Tackling COVID-19
Laurence Boone is chief economist for the Organization for Economic Co-operation and Development (OECD) and an alumnus of London Business School (LBS).
---
---
"As the virus spreads around the world, co-ordinated and synchronized monetary and fiscal action will become more and more important," Laurence warns.
---
Staying connected in a pandemic according to EMERITUS
Global online education company, EMERITUS, is reaching out to business schools around the world to offer advice as they move all content and resources to online platforms.
---
---
"The good news is that online training can deliver learning outcomes, while providing the human connection, engagement, interactivity, and flexibility that learners need today," says senior director of enterprise, Jawahir Moraji.
"To help institutions think through the challenges and opportunities inherent in online education, we are sharing guidance from our talented team of learning professionals," Ashley Chiampo––senior director of learning––adds.
---
Google moves summer internship program online
---
March 26th
---
EDHEC Professor hosts online plank-off!

---
Imperial's Sustainability Conference moves online
Imperial College Business School is virtually hosting its annual conference for the first time. Beyond Sustainability: Radically Rethinking the Purpose of Business includes the following key speakers:
Mike Coupe, CEO of Sainsbury's
Keith Tuffley, Global Co-Chair, Sustainable Banking & Corporate Transitions group at Citi
Katie Brewis, Head of Sustainability at Google EMEA
Andrew Jack, Global Education Editor at the Financial Times
---
Professors from major US business schools sign open letter to Congress
President Trump has announced Congress would be budgeting $2 trillion to mitigate the economic impact of the Novel Coronavirus outbreak, supporting large corporations––such as airlines. In a live webinar to discuss why these financial academics penned the letter, professors from Stanford GSB and MIT Sloan voiced their concerns for the taxpayers who would have to foot the bill.
Stanford GSB professer, Anat Admati, calls it a "deeply misguided policy".
"Bailing out corporations is actually bailing out investors," her colleague, Jonathan Berk, explains. "Taxpayers are subsidizing investors."
The open letter has been signed by over 150 leading economists and business school faculty all over America.
---
Darden introduces additional flexibility to admissions process
The University of Virginia's Darden School of Business is introducing more flexibility for candidates applying to the Full-Time MBA program starting in 2022.
The school has now transitioned to rolling admissions until July 15 2020 for final rounded applications. Due to disruptions to standardized testing facilities, Darden will now accept an expanded set of testing credentials––such as undergraduate entrance exams.
"Our message to prospective students is one of caring and flexibility," says executive director of admissions Dawna Clarke. "We know how stressful applying to business school can be in the best of times; in a time of unprecedented disruption, we stand ready to work with applicants to make this process as flexible as possible."
---
UNC Kenan-Flagler Business School debates the knock-on effects of COVID-19 pandemic
The Kenan Institute of Private Enterprise at UNC Kenan-Flagler Business School recently hosted a panel of their faculty experts to share their thoughts on the COVID-19 pandemic that is rocking the global economy. The conversation that took place is recorded and available.
They focused on:
Working while sick and stressed
Global economic and financial market implications
The nation's 'working poor' and how this impacts them
Managing personal finances
Infrastructure and procedures to keep operations running while prioritizing employee safety.
---
March 25th
---
Who is Stanford MBA Rishi Sunak?
Son-in-law of an Indian billionaire, Stanford MBA alum, and the UK's new chancellor heading up the battle versus coronavirus—Who is Rishi Sunak? Find out here.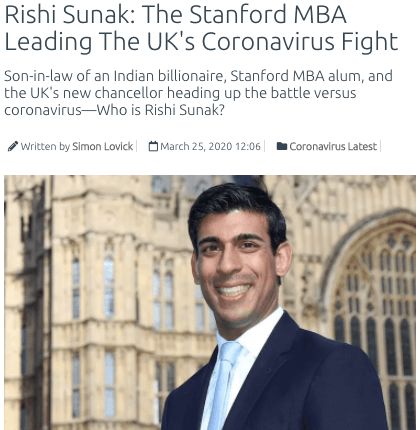 ---
CEIBS reduces MBA program length to 16 months
As schools elsewhere prepare for the worst, CEIBS, in China, is prepping for a future after coronavirus. The start of the 2020 MBA program has been pushed back to October 12. The length of the program will be reduced from 18 to 16 months, although the school says the student experience will remain the same.
In addition to the Round 3 application deadline on March 25, CEIBS have also introduced a Round 4 deadline on May 13, with decisions due by June 10 2020. Candidates can also apply without GMAT and GRE scores, with conditional offers made on the basis of taking an admission test at a further date.
---
University of San Francisco Moves Campus Online
---
Wharton MBA Admissions office extends application deadlines
Wharton has announced it's extending its Round 3 and Advance Access deadlines in order to provide applicants with more flexibility amid the COVID-19 outbreak. The new Round 3 deadline is on Wednesday April 15 and the new Advance Access deadline is on Wednesday May 27.
This announcement follows changes to Wharton's admissions requirements last week––you can now submit applications without having sat for a standardized test if your booked test was cancelled or you could no longer travel to the test center amid social distancing rules.
---
Emory's Goizueta Business School extends application deadline
Emory University's Goizueta Business School is extending its application deadline for the One-Year MBA program to April 15 2020. Admissions for the two-year program have been extended until July 1 2020. The school is waiving fees for the remainder of the application cycle for candidates applying for the fall 2020 program start, and has also designed a free Coronavirus-tracking app for students.
---
---
The reality of studying remotely
Imperial College Business School student Sofia Skevofylaka is enrolled on the MSc in Innovation, Entrepreneurship, and Management program and is due to finish in July. However, following the COVID-19 outbreak, she returned home to Greece and is now studying online.
"People started to get scared. I was living nearby in Imperial's student accommodation and I had a contract to stay until August. But I prefer to be with my family. It is one less stress," she told The Financial Times.
"It is a bit weird to have to now look at everyone's faces on the screen. When we attended lectures on campus, we didn't look at each other as much as we do on Zoom, but the school has shown how it can be used to complete all of our coursework."
She has since work with her classmates to present a start-up pitch as part of her entrepreneurship module, proving that modern technology is making the transition to online much easier.
---
March 24th
---
Update: GRE Test now available online!
You can now take the GRE at home, as ETS offers an online GRE test in response to the coronavirus pandemic. Read the full story.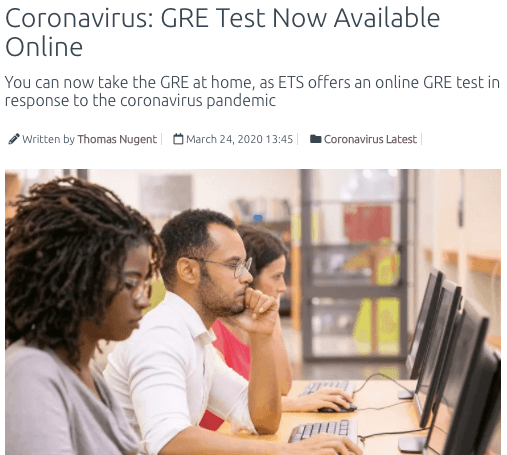 ---
GMAT Online Test will be available by 'Mid-April'
As coronavirus shuts down GMAT test centers, there are plans to move the GMAT exam online. Find out more.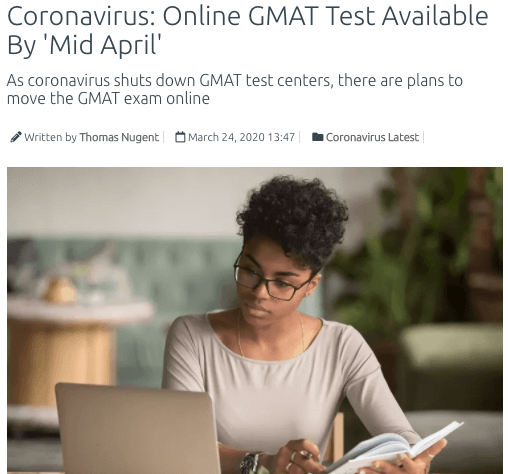 ---
Canada travel concession for international students
Canada makes a concession to its travel ban for international students, as long as they have a valid study permit or have been approved for a study permit before March 18. Foreign students are anticipated to travel to Canada as planned for spring-term (May) enrolments.
---
How MBA candidates can make the best of their time in self-isolation
Cara Skikne is something of an admissions expert, and has a lot of advice for MBA candidates preparing their applications while in isolation. She's put together six top tips for our readers. Make sure to check it out!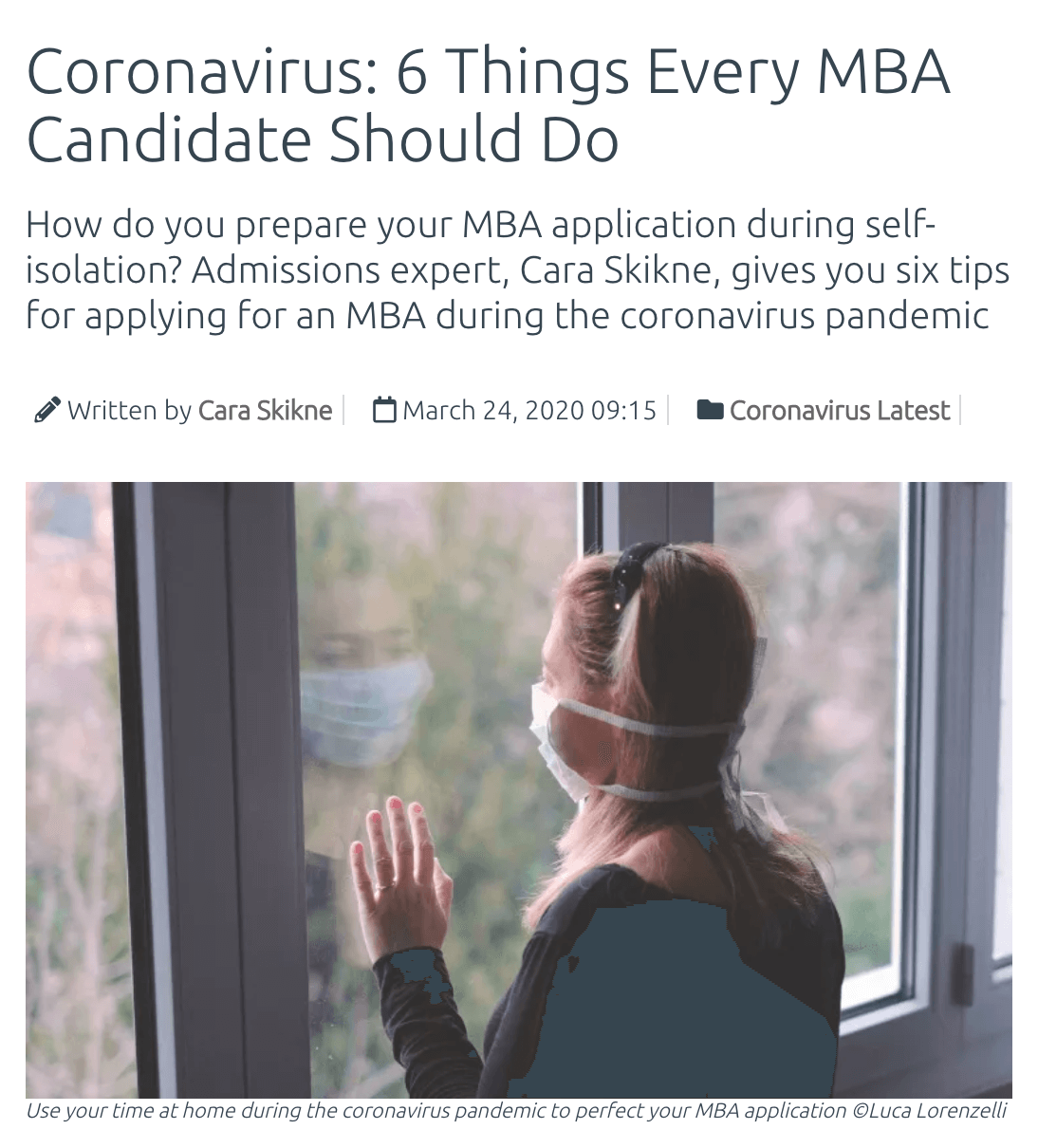 ---
AACSB finds the silver lining for business schools
The Association to Advance Collegiate Schools of Business (AACSB) has reached out to business schools around the world with a survey to find the positives at this difficult time.
School responses include:
"The crisis will act as a burning platform to encourage more faculty to rethink their approach to technology and to see how it can be used to provide a more engaging student experience. It will also force us to consider alternative forms of online assessment.

"The COVID-19 pandemic has perhaps accelerated the rate of change necessary to move the business school in the right direction, particularly with respect to the development of online and blended degree programs and short courses (micro-credentials).

"Hopefully [we] will avoid worst of the impact of COVID-19. Also, [we] will have more faculty exposed to teaching on-line which, if they have a good experience, may increase the variety of courses offered on-line in the future."
---
Stanford GSB dean with a reassuring message
"With the first weeks behind us, I want to take this opportunity to reflect on our shared situation, and to express my appreciation and gratitude for the GSB community," writes Stanford GSB dean Jon Levin.
"We have faced the disappointment of losing the traditional experience of spring quarter, long-planned events, and even commencement. The world looks less friendly to students looking ahead to the job market, and to those of us anxious about family members. All of us are deeply concerned about the health and economic costs being borne across the country and the world.
"In the midst of this uncertainty and anxiety, I have been inspired continually by the resilience and creativity of GSB students, faculty, staff, and alumni. We do not get to choose our circumstances, but we do get to choose our actions. In this historic moment, I am excited to see what together we will accomplish, and contribute to the world."
---
Real Coronavirus Stories: Kazakhstan
Jenifer L Lewis, director of degree programs at Nazarbayev University Graduate School of Business in Kazakhstan, and MBA student Olga Sunyaikina, share their stories.
---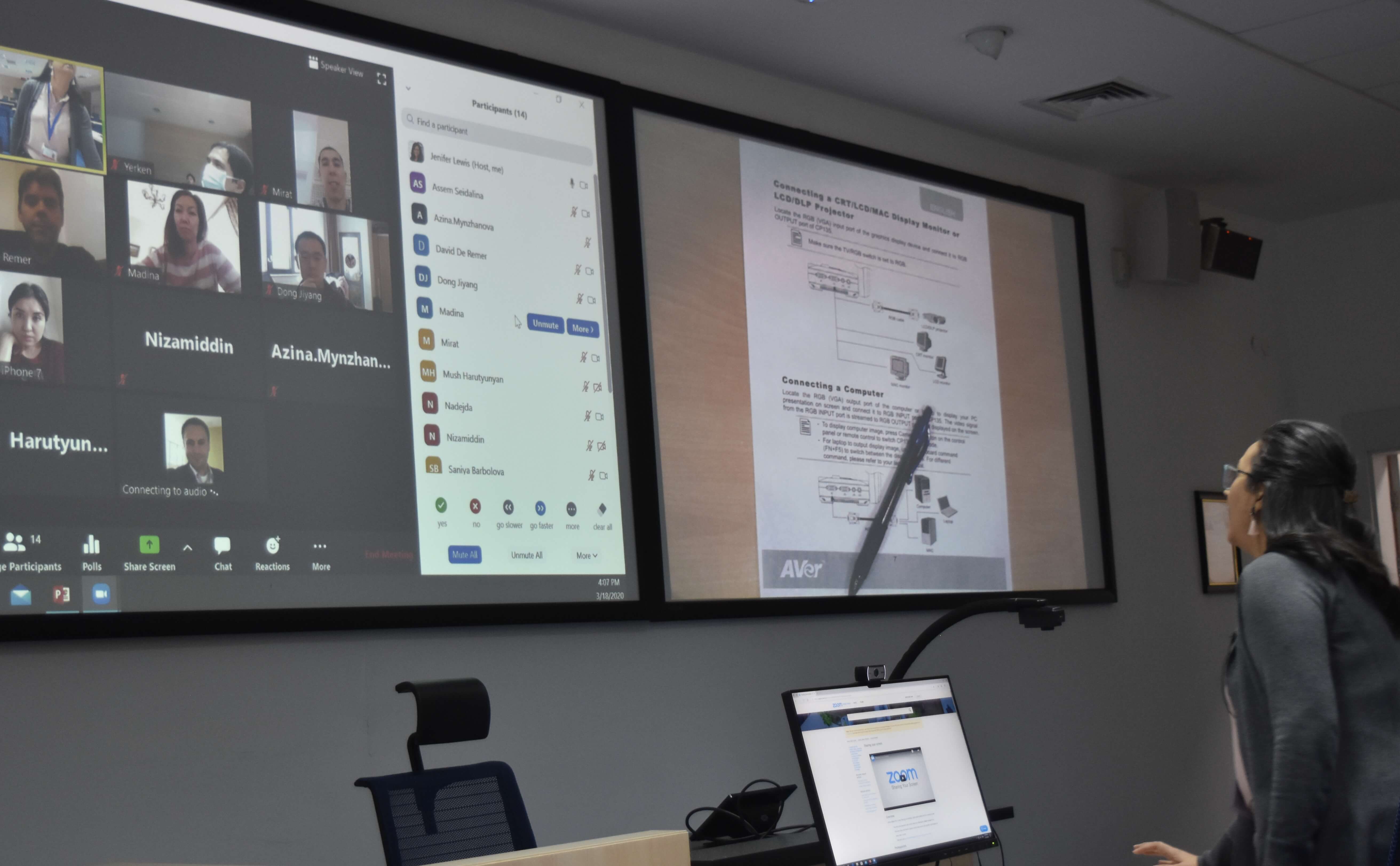 ---
"As with many colleagues across the world, our staff are quickly working to adapt our courses to an online delivery format," Jenifer says.
Olga had initially planned to complete her Erasmus semester abroad at the University of Applied Sciences and Art in Dortmund, Germany. With countries shutting down their borders to contain the virus, Olga found her plans changing. She's now working and studying from home.
"I realized it's much bigger than one person," Olga says. "It's about protecting the elder population, people who have respiratory or chronic diseases, and not putting extra pressure on already full hospitals. It's a very important moment in history and I'm happy to contribute by following social distancing and thorough hygiene.
Jenifer adds that the school faculty is doing whatever they can to support students in their learning with online support.
"Our campus community is coming together in many ways and, although separated by distance, we are truly embodying our NU motto, 'One university, one team!'" she concludes.
---
March 23rd
---
You can now take the GRE test at home!
With coronavirus closing GRE test centers, ETS, owner of the test, has developed a home testing alternative. If you're based in the United States, Canada, Colombia, France, Germany, Italy, Spain, Hong Kong (China) or Macau (China), you may be able to take the GRE General Test at home. The test is monitored online by a trained human proctor from start to finish to maintain test security.
Stay tuned for our coverage of this story and news about an online version of the GMAT coming shortly!
---
Chinese MBAs prepare for life after COVID-19
---
---
SKEMA Business School offers all courses online across 5 continents
French business school, SKEMA, closed its Suzhou campus in China in January when the Novel Coronavirus first hit news headlines. With closures of higher education institutions spreading across France, the US, Brazil, and South Africa––where SKEMA has established campuses––the school accelerated plans to move all courses to 100% online.
"In total we deliver an average of 250 different courses every day," says Patrice Houdayer, director of programs, international and student life at SKEMA. "By the end of the semester in April, more than 6,000 sessions will be delivered to nearly 7,000 students."
---
March 22nd
---
GMAT testing suspended in India
GMAT testing in India has been suspended in multiple locations including:
Bangalore: M.S. ENGINEERING COLLEGE testing suspended through April 1
Bhubaneswar: KIIT University – testing suspended through April 1
Gurugram: Ansal University – testing suspended through April 1
Kolkata: Brainware University – testing suspended through April 1
Vellore: Vellore Institute of Technology – testing suspended through June 1
See the full list and latest global GMAT testing updates
---
Survey shows US universities fear admissions crisis
---
Indian School of Business closed as students start social distancing
---
Follow coronavirus news on Twitter
Follow @businessbecause on Twitter and stay up to date with all our latest stories.
---
March 21st
---
Real Coronavirus Stories: Maintaining your mental health while studying
Jon Charles Gore is a full-time MBA student from ESMT Berlin whose learning has moved online. He says taking several key steps help him maintain his mental and physical health.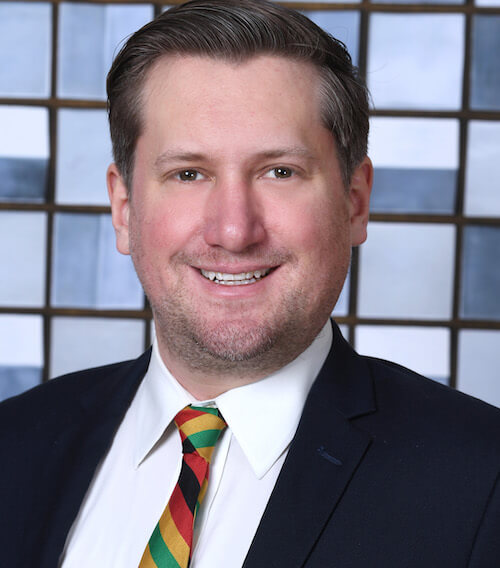 "Going from being surrounded on campus by motivated people working towards a common goal to working remotely from home is certainly a change. This week has had its ups and downs, but the trend is positive. Each day I've added or pruned something from my actions that now, on Friday, I'm feeling confident and productive. Some of these include:
Moving my tasks offline onto a notepad. Social media and WhatsApp has been increasingly active compared to pre-COVID-19, so having my to-do list on my phone has become too much of a distraction.
Exercise in the morning and walk in the evening. The roads are much quieter and it sets the tone for the beginning of the day, and wraps up the end of the day.
Cleanliness. I've found I have a much lower tolerance for dirt while I'm self-quarantined. When you are cooped up somewhere dirt is harmful for your sanity.
Water. I've upped my intake to five liters a day, which is definitely healthy.
"All of these actions or rituals have contributed positively to my health, and were not actions that I consistently completed before the crisis. I find mixing these in with my personal projects and school work keeps me motivated longer, and allows me some good headspace."
---
GIBS dean with words of advice on The Money Show Podcast
The Gordon Institute of Business Science (GIBS) is a business school in South Africa which closed its doors on Friday 20 March when a faculty member tested positive for COVID-19.
"All face-to-face classes on the GIBS campus were suspended earlier this week," read a GIBS statement. "Classes were moved online or rescheduled until after mid-April. Prior to learning about this case, measures had already been taken to significantly curtail visitors on campus."
The school's dean, Nicola Kleyn, appeared on The Money Show podcast to reassure students steps will be taken to ensure all learning resources are available, with minimal disruption to study.
---
---
Copenhagen Business School postpones finance seminars
The Department of Finance at Copenhagen Business School (CBS) announced its decision to postpone all seminars and events until at least April 13 due to COVID-19.
"All members of the department will carry on with online teaching, research, and administration from home," the school said in a statement. "See you on the other side."
---
March 20th
---
GMAT test-taking suspended across Europe, USA & India
GMAT testing in France, Germany, Greece, and the UK has now been suspended until further notice. GMAT testing in the USA has been suspended in multiple locations. From today, GMAT testing has also been suspended across multiple locations in India.
See the latest GMAT testing updates.
---
Business schools share pretty campus pics on Twitter
As Texas enters lockdown, the Naveen Jindal School of Management of The University of Texas at Dallas has started sharing images of its campus on Twitter, and other schools are doing the same. Check out our list of the prettiest business school campuses.
---
MBA student adds to India's coronavirus cases
Returning home from his MBA in Dublin, Ireland, an Indian student has become the third registered case of coronavirus in Tamil Nadu. India has over 220 positive cases so far—with 6,700 additional people who potentially came into contact with them under surveillance—and business schools are taking the necessary precautions.
The Indian School of Business has closed its campuses in Hyderabad and Mohali and students who can are returning home. The Indian Institute of Managements in Ahmedabad and Bangalore have cancelled their graduation ceremonies.
---
Real Coronavirus Stories: Moving learning online
Coronavirus forced Robert Boute, professor of Operations Management at Belgium's Vlerick Business School, to switch his Supply Chain Bootcamp to an online version this week. Part of the bootcamp includes a real-life business case with European rail & logistics company Lineas.
---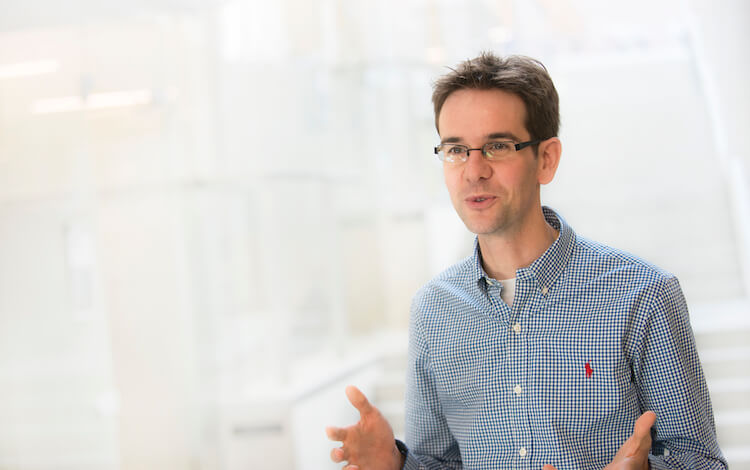 ---
"There were considerations of cancelling the project, but we felt we could successfully complete this online through Zoom, and we did! Students were able to continue as normal, having virtual lunch meetings, continuing intermediate reporting and working in (virtual) breakout rooms – in a very similar way to offline. And, today students will be presenting their results to the CEO, COO and Chief Finance & Accounting of Lineas online.
"I must admit it has been much more demanding and energy consuming than regular teaching. I'm not sure why, but I think the dependency on technology working gives extra stress. However, I have been able to continue teaching in the exact way I do in the classroom—just online—and the bootcamp and company project has proven to be incredibly successful with students."
---
CFA postpones June exams
Considering CFA vs MBA? The Chartered Financial Analyst (CFA) Institute has announced it will be postponing its June 2020 CFA Program Exam administrations until December or later due to COVID-19.
---
"We cannot overstate the profound effects that coronavirus is having on families, communities, businesses, the financial markets, and the global economy," says CFA Institute CEO and President, Margaret Franklin.
Candidates registered for the June exams will be transferred to exam administrations at a later date––the soonest of these dates is in December 2020 for all levels.
---
Global Business School Network urges business schools to support one another
Non-profit organization, The Global Business School Network (GBSN), has launched a LinkedIn group designed for business schools around the world to join in order to share resources in the face of the Novel Coronavirus.
---
---
"As the outbreak worsens now is the time to share ideas and learn from one another," the group says. "The Global Business School Network is committed to providing platforms for digital information sharing and learning across our industry."
---
Cases of coronavirus at business schools
Spain's IE Business School recently announced three of its students had tested positive for COVID-19, with one requiring hospitalization. Two more IE students on the Madrid campus have also been diagnosed.
Coronavirus cases have been confirmed at three schools in Chicago: DePaul University, Chicago Booth, and Columbia College Chicago. Each school is implementing measures to prevent the spread, including self-isolation and remote learning.
INSEAD dean Ilian Mihov has also tested positive for COVID-19. INSEAD has suspended cross-campus travel until the end of the April and all teaching has been suspended.
---
March 19th
---
MBA loans provider Prodigy Finance offers flexible terms
Prodigy Finance says student borrowers should get in contact if they need to pause loan repayments. Other flexible measures include: Free quotes without committing to a loan or signing a contract; You only need to sign final loan agreement when you've safely reached campus; Graduates only need to start repaying loans six months after course completion.
---
GMAC CEO issues response to COVID-19
---
New Master's course helps professionals manage pandemics like coronavirus
Aston Business School launches its MSc in Crisis and Disaster Management as more businesses demand professionals trained to coordinate their response to disasters.
---
Crowdsourced list of US universities closed by coronavirus
A list of universities in the United States closed by coronavirus is being regularly updated and is available online. Various business schools are closing campuses and moving classes online. Check it out to find out if your target business school is affected.
---
MBAs on Reddit voice concerns
Reddit is buzzing with coronavirus chat. Candidates and current students are concerned about having to pay for high-cost, full-time MBA programs which are currently being delivered online. However, some Reddit-users are now considering going to business school as the global economy and jobs take a hit.
---
Coronavirus: Video Explainer from MBA Tube
---
Harvard extend 2+2 MBA admission deadline
Harvard's 2+2 is a deferred admission process for current students, who are either in college or a full-time master's degree program. Students pursue at least two years of professional work experience (maximum of four years) followed by two years on the HBS MBA. Instead of April 2, 2020, the new 2+2 new application deadline is June 1, 2020 at noon Eastern time.
---
---
GMAT reminder
Any GMAT test taker who wants to reschedule their current appointment (either a different date or to a different test center) can do so without incurring any fees.
---
Ask your coronavirus questions
Ask our admissions experts anything you want to know about how coronavirus could impact your business school application.
---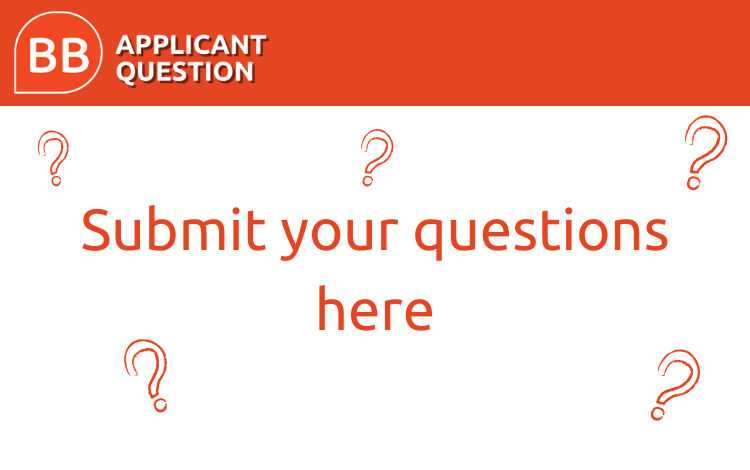 March 18th
---
Latest on GMAT & GRE testing
More test centers close around the world as GMAT and GRE testing is disrupted by coronavirus. Check out our latest live updates on GMAT testing and GRE test center closures.
---
IE Business School professor studies impact on Corona beer!
---
Rotterdam School of Management offer GMAT waivers
As well as making conditional offers (pending submission of a GMAT or GRE score), RSM in the Netherlands are offering GMAT/GRE waivers to candidates with outstanding undergraduate GPAs and to PhD-holders.
Instead of GMAT or GRE, candidates can also complete two Harvard online courses, the Mathematics for Management ($90 USD) and Quantitative Methods ($150 USD) courses, scoring over 75% on both.