To MBA or not to MBA? There's no question!
The MBA, which stands for Master of Business Administration, has been catapulting careers to unprecedented heights since Harvard Business School launched the first ever MBA program in 1908.
Today, the MBA is the world's most sought-after business management degree; the pièce de résistance for many an international b-school.
Top companies including Google, Amazon, and McKinsey hire MBA grads in their thousands and notable MBA alumni lead some of the world's biggest firms.
Michael Bloomberg has one, Google CEO Sundar Pichai has one, Donald Trump sometimes says he has one. Heck, even Shaquille O'Neal has one. Basically, MBAs are cool.
BusinessBecause (also cool) is in the business of supporting you on your MBA application journey, giving you the information and insights you need to support your business school application.
With this in mind, we spoke to MBA students, grads, professors, MBA admissions staff, bloggers and entrepreneurs—and asked them all the same simple question: Why get an MBA?
Here's 50 reasons why you should get an MBA:
---
Browse by category: Click any of the links below to jump to each category
Networking, Parties and Social Life
---
Fast-Track Your Career
---
1. Go From MBA To CEO
Who runs the world? MBAs. MBAs grads hold the reigns of some of the world's biggest firms: Apple, Google, and JPMorgan included. Amazon's CEO Andy Jassy is an MBA alum from Harvard.
2. Double Your Earnings
Get rich quick with a return on your investment in under four years. The average MBA salary in the US is over $100k and MBAs at the best business schools for salaries can earn upwards of $200k.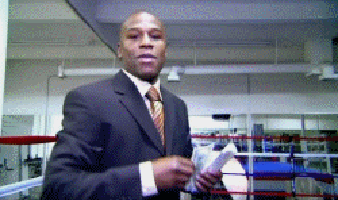 3. Change Industry
Want to switch from finance to fashion, or engineering to business management? An MBA is the perfect opportunity to start afresh and using your MBA to switch careers is one of the key reasons why you should pursue an MBA.
4. Get Access To Top Employers
Bain, Microsoft, and more of the world's best companies to work for hire MBAs. Julia Sanchez, head of global alumni relations at Spain's IE Business School, says an MBA will "open your eyes to infinite possibilities".
Check out our MBA Jobs & Salary Review series to find out which companies hire MBA alums from top schools like Harvard and Stanford.
5. Scholarships
Don't be put off by the cost of an MBA. There are many ways to fund your MBA and schools offer a wide variety of MBA scholarships, with some even covering 100% of your tuition.
6. Go From MBA To US President
Harvard MBA grad George 'Dubya' did it.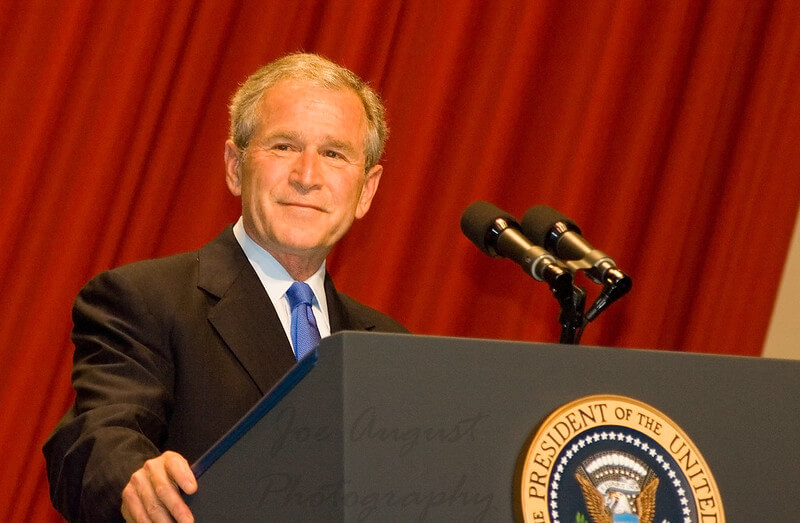 Image credited to ©Joe August via Flickr and used under this license.
---
Go Global
---
7. Study Abroad
Why get an MBA? With an MBA, the world's your oyster, with top business schools offering MBA programs all over the world. Before choosing where to go, and if you want to start a new career there after your MBA, make sure you know which are the easiest countries to get a work visa.
8. Work In The World's Top Cities
Top business schools are located in many of the world's most desirable cities. Where you choose to study can determine your future career. Choose wisely.
9. Break A World Record
Students at London Business School (pictured below) set a new world record for the highest number of different nationalities taking part in a popular singalong. They sang John Lennon's 'Imagine' on the school lawn.
10. Cross Cultures
Learn to operate within different cultures. In China, saving face is everything. Oh, and don't be surprised if local people take photos of you in Tiananmen Square!
11. Learn A Language
LBS students are required to learn and be competent in a chosen second language by the time they graduate. Parlez-vous MBA?
12. Live It Up On Campus
Why study an MBA in a dark office setting? Picking a pretty campus can give you that little bit of extra motivation when hitting the books. At UWA Business School, students stroll through the picturesque surroundings of Perth's Swan River.
13. International Classrooms
No need to travel! At Copenhagen Business School, you get to "meet the world, in one class, in one place", according to MBA student Marius Vetaas Thomassen. Our MBA Class Profile Breakdowns tell you all you need to know about the MBA students at your target school.
---
Read: The Best Business Schools In The World | Financial Times Ranking
(c)INSEAD Facebook
---
Entrepreneurship
---
14. Start Your Own Business
What do Nike, Gap and Victoria's Secret all have in common? They were all started by MBAs. It's simple: If you want to launch your own business venture, an MBA gives you the tools and the support to do so.
15. Jump Into Silicon Valley
Why do you want to do an MBA? Do you want to join Apple, Google and Facebook in tech heaven? Stanford, Berkeley Haas, and UCLA Anderson all have strong ties to the world's number one tech hub.
16. Meet Your Business Partner
Chris Abkarians and Nikhil Agarwal, co-founders of loans company Juno, met during their MBA at Harvard Business School. Find out what they had to say about getting the best student loan rates to fund your MBA.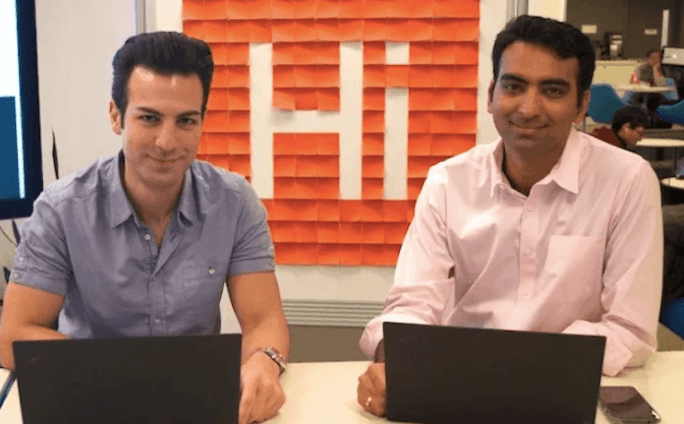 17. Get Some B-School Backing
ESSEC Business School in France cuts out any administrative hassle for its MBA entrepreneurs by providing a rented start-up space, and by organizing meetings with venture capital investors.
18. Launch Your Own Luxury Brand
Bored of big brand designer labels? Yici Zhao launched her own fine jewelry company in New York and says an MBA has made her a better entrepreneur.
19. Make A Social Impact
Give something back. Hilary Matson decided to leave her role at Amazon to pursue the HEC Paris MBA and follow her dream of starting a sustainable business.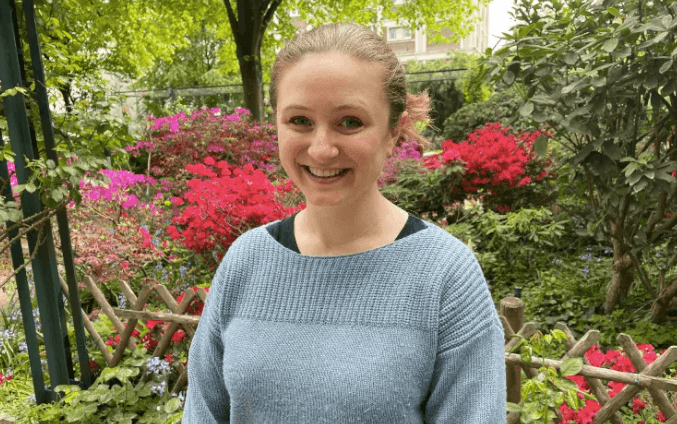 ---
Hard Skills, Soft Skills
---
20. Change The Way You Think
An MBA will get inside your head and mind, and fundamentally change the way you look at the world. Creepy…
21. Be A Leader
MBA programs are training grounds for the world's future business leaders. Rainmaker Thinking management guru Bruce Tulgan says that basic leadership techniques can be picked up by almost anyone. The next step? "Practice, practice, practice those techniques until they become skills and then habits."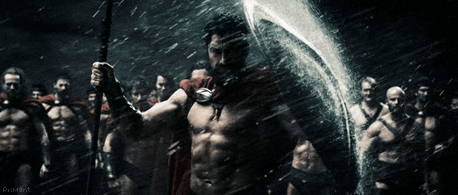 22. Be The Ultimate Team Player
If you can work with a bunch of highly intelligent, highly ambitious, highly strung Type A personalities, then you can work with anyone.
23. Ace Your Analysis
"You'll learn how to analyze any company from many different perspectives and you'll develop the ability to understand the strategy, operations, and performance of that company, quickly and effectively," says former HBS professor-turned-top-business-blogger Michael Roberto.
24. Spot The Cheats
Tormented by Toshiba? John Sakakini says that, with an MBA, you learn how companies try to get away with massaging numbers to make themselves look better. "Looking at you Groupon!" he says.
25. Master The Dark Arts
Need to secure a big business deal? Pick up the dark arts of seduction and persuasion at b-school and make sure things go your way.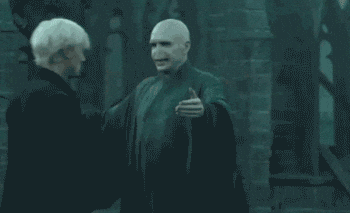 26. Be Big On Big Data
An MBA keeps you at the cutting-edge of tech. As big data has transformed the business landscape, many business schools have incorporated big data courses into their MBA programs. Nottingham Business School goes one step further with its Online MBA with Data Analytics.
27. Stay A Cyber Step Ahead
Online hackers are a threat to any business and jobs in cyber security are just some of the exciting technology jobs available to MBA graduates. For more, check out our list of the best paid jobs in technology.
28. Tap Into 21st Century Marketing
Why get an MBA if you want to work in marketing? An MBA can help you pivot into marketing, with specialized digital marketing courses and real-world practice.
29. Sell Yourself
MBAs teach you how to market yourself.
30. Say Goodbye To Stress
Granted, an MBA can be an infinitely stressful experience. But that's partly the point. With an MBA your stress threshold will sky-rocket, preparing you for your high level, high octane business career.
31. Play The Markets
Are stocks, shares, and markets all a mystery? With an MBA, you'll be playing the stock market and partying like the Wolf of Wall Street before you know it.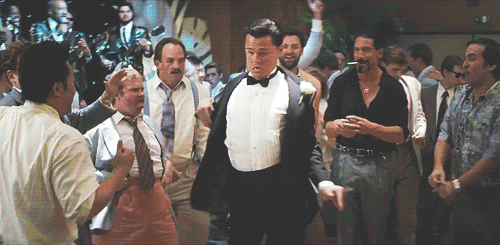 32. Finally Learn How To Use Excel
Algorithms, equations, tables, spreadsheets, workbooks, bleurgh! Wondering what it all means? You'll be an Excel expert by the time you've finished finance.
33. Up Your Oratory
Pitch, present, represent. An MBA will provide you with the confidence and communication skills to help you conquer your fear of public speaking.
---
Applying for an MBA? You'll need to take either the GMAT or the GRE.
©HBS-Facebook
---
Networking, Parties and Social Life
---
34. Be A Student Again
As Lancaster University Management School MBA student Shaswati Panda says, "The best part of an MBA is that it welcomes us back to student life; the life we always longed for once it was over."
35. Party All Year Round
Diwali, Christmas, or the Chinese New Year. In such a multicultural environment, you'll receive more social event invites than you can physically handle.
36. Find A Friend
The UWA student social club creates MBA friendships that last.
37. Get Hitched
All those late nights working together. Your eyes meeting over a financial accounting textbook. Where better to meet your high-flying life partner?
38. Free Booze!
MBA events have their perks.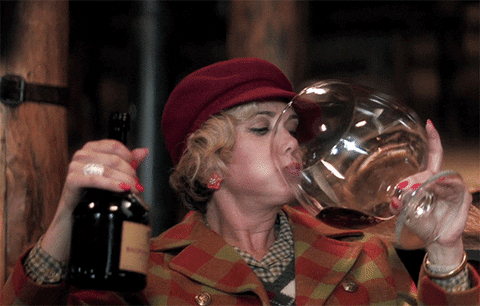 39. Dress For Success
Think you can get away with an un-ironed t-shirt? Think again. B-schools have an unspoken "business casual" dress code.
40. More Freebies
B-schools kit out their students with branded gear; umbrellas, calculators, backpacks or, if you're at London's Imperial College Business School, a personally engraved iPad.
41. Compete In The MBA Olympics
HEC Paris hosts an annual MBA tournament, which brings sports teams from b-schools around the world together to compete.
42. Go On School Trips
AGSM MBA students started their year by climbing up Australia's Sydney Harbor Bridge.
43. Meet Industry Experts
An MBA opens doors. Get on the career events circuit and network your way to the top.
---
Me, Myself and I
---
44. Find Yourself
Already backpacked around South America in search of the inner you? Come up short? An MBA gives you time for self-reflection.
45. Find Your Yoda
"You will find a great mentor among the faculty and alumni of the school you attend," says former HBS prof Michael Roberto.
He's not wrong. At Maastricht School of Management (MSM), students are also partnered with professional mentors from a variety of industries—one of many reasons why top companies hire MBAs from MSM.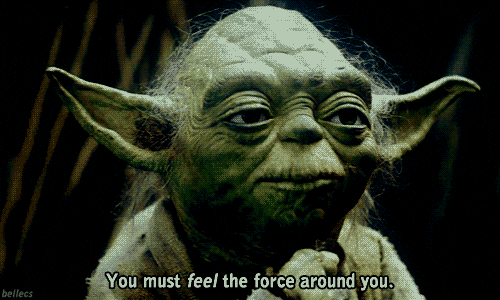 46. Spice Up Your Resume
Are you still asking yourself the question: Why should I do an MBA? For MBA admissions blogger Stacy Blackman, an MBA is a stamp on your resume that no one can take away. You're more than just a name now. You're [insert name here] MBA.
47. Fill In The Gaps
Gaps in your resume? An MBA is important because it also gives you the time to figure out what you want to do with your life, guilt-free. LBS blogger Olly Nguyen calls it a "covered period" allowing you to "experiment and take risks without anyone questioning what you were doing during that time".
48. Take Your Time, Online
The growth of Online MBAs means you can take an MBA online and work, holiday, and care for your children at the same time.
Download our free BusinessBecause Online MBA Guide 2023 for everything you need to know about applying for an Online MBA, plus a list of the world's best Online MBA programs.
49. Test Your Limits
Just how high can you jump? Michael Czinkota — an international business blogger and professor at Georgetown University's McDonough School of Business — says an MBA will let you "see how and where you fit in among hard charging competitors".
To know what you need to get into your dream MBA program, check out our MBA Application Insider series, featuring interviews with leading MBA admissions directors.
50. Make Your Family Proud
Aww! But seriously, your mom will love it. Get another graduation photograph up on that mantelpiece!
---
We had so much fun writing this list of 50 reasons why you should get an MBA that we couldn't resist reaching out to our b-school contacts to see if we could get some more.
---
5 MORE REASONS...
---
Did our b-school contacts have anything to add? Of course they did! Why should you get an MBA? Here's the latest thinking from the people who know best.
---
51. Work In Policy
Interested in policy work at the World Bank, the Federal Reserve, or the IMF? It used to be that a PhD was required, but not anymore. An MIT Sloan career trek to Washington DC, organized by the MIT Sloan Finance and Policy club, revealed that this is no longer the case.
52. Add Instant Value To Your Organization
Kelly Wilson, executive director of master's admissions at Carnegie Mellon's Tepper School of Business, says: "As a part-time Tepper School student, MBAs can attend our on-campus or online program and immediately apply what they are learning. The impact is immediate and noticed by senior members of the organization. Our current students have increased opportunities with their employers because of their personal and professional growth during the MBA program."
53. Adapt To Change
Dr Julie Hodges, associate dean for MBA programs at Durham University Business School, says: "An MBA is a fantastic way to enhance your business skills for working in a world of accelerating change. It provides you with the ability to lead and manage in a volatile and complex environment and gives you the confidence to make decisions to drive forward transformations. An MBA is an opportunity to step into a bubble of learning that will challenge your thinking and further develop your capabilities so that you can make a difference in the dynamic and disruptive world you live in."
54. Combine Academia With Real-Life Business Experience
Wolter Lemstra, associate professor at Nyenrode Business University, says: "An MBA provides a unique combination of academic rigor and business relevance. University education is typically highly academic, often referred to as 'ivory tower' thinking. But in business, many decisions have to been made without a huge amount of time or resources, often based on the past experience of the executive or manager. These decisions are highly relevant to the business but typically lack the benefit of thorough academic research as their underpinning. In MBA programs, academic rigor is combined with business relevance–the best of both worlds.
55. Be Successful
Dennis Vink, professor of finance and former director of the Nyenrode MBA, sums it up nicely. "No matter what success means to you," he says, "there are certain things that most successful MBA programs in the world have in common. You will face many challenges and failures during the program. But to achieve success, you need to enhance your academic skillset and work together with your classmates as a team in order to keep moving on. In the end, the MBA diploma is going to be a reward that lasts a lifetime!
---
Conclusion
You made it! There are so many different reasons why you should get an MBA. If we've missed something, let us know in the comments below.
Now that you've learned why you should get an MBA, it's time to apply.
Find out everything you need about applying to business school in our free-to-download BusinessBecause MBA Application Guide 2022-23.
---
By Marco De Novellis & Rania Serghini Seghier. This article was first published in March 2016 and updated in August 2023.