The Cornell SC Johnson College of Business' two-year, full-time MBA offers you the opportunity to attend the 15th best business school in the United States (according to US News) without the same ultra-competitive admissions process involved in applying to an M7 business school.
The Cornell MBA class profile provides a snapshot of a competitive program, for mid-career professionals who wish to gain hands-on experience during an action-packed tenure.
---
Cornell Johnson MBA class profile | Overview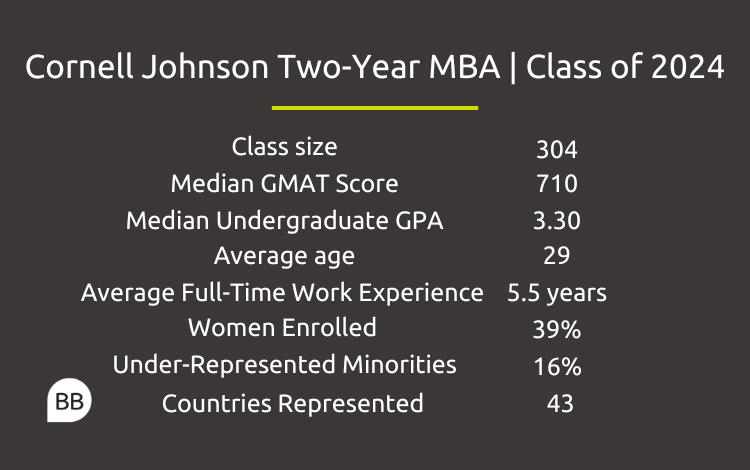 Full-time Two-year MBA Class of 2024. Data provided by Cornell SC Johnson College of Business
---
What can we learn from this data? Here's our 10 key takeaways from the Cornell MBA class profile.
---
1. Cornell's MBA acceptance rate is 31.2%
For a top business school, Cornell Johnson's acceptance rate feels fairly reasonable and achievable. At approximately 30%, the Cornell MBA acceptance rate is significantly higher than Stanford Graduate School of Business MBA's ultra-competitive 8.6% admission rate and Harvard Business School MBA's 14.4% admission rate.
Comparing cut-throat MBA acceptance rates from the world's top b-schools, the Cornell MBA acceptance rate is comparable to Michigan Ross (28%) and Dartmouth Tuck (33.4%), which are respectively ranked #8 and #6 by US News & World Report.
Interestingly, business schools with similar ranks, such as the Marshall School of Business at the University of Southern California MBA (tied for rank #15) and Carnegie Mellon's Tepper MBA (ranked #18) have acceptance rates that are slightly more competitive – 28% and 27.7%, respectively.
If you're planning to apply to multiple top MBA programs, Cornell offers you the opportunity to attend a well-respected program with higher odds of admission – a win-win.
---
2. Cornell's median GMAT score is 710
Cornell Johnson's class of 2024 earned between 650 (70th percentile) and 750 (98th percentile) on the GMAT, with a median GMAT score of 710 (90th percentile).
Scoring above 700 on the GMAT is no easy feat, but compare these numbers to the average GMAT scores of other top MBA programs and you'll realize that Cornell's standards are relatively reasonable (see: Stanford MBA's 733 average GMAT score and Harvard's median of 730).
If you can score above 700 on the GMAT, and have an otherwise strong application, then you are in line with the 2023 Cornell Johnson class profile and should consider applying.
---
3. Cornell MBA median GPA is 3.30
By now, you may be sensing a pattern when it comes to Cornell MBA requirements. Much like the acceptance rate and Cornell MBA GMAT score, the median GPA of Cornell MBA's class of 2023 is in the high-yet-achievable range, at 3.30.
Compared to the average GPA scores for the top-ranked business schools, which tend to be above 3.5, Cornell's admissions committee seems to allow room for brilliant, qualified students who did not earn straight-A's during their undergraduate careers.
This makes sense if you also consider the diversity of undergraduate institutions and recent career paths of current enrollees.
---
4. Cornell MBA requirements include essays & resume
Don't be lulled into thinking that applying to the Cornell MBA isn't competitive – it is the Ivy League, after all. Fewer than half of applicants will be admitted, and – like most top business school programs – the application is lengthy and time-consuming.
Cornell MBA requirements include:
- Online application form
- Resume
- List of activities
- Goals Statement + 1 required essay + 1 optional essay
- Transcripts for all post-secondary coursework
- GMAT or GRE score report (test waiver optional)
- TOEFL or IELTS score report (for applicants whose first language is not English)
- 1 required professional recommendation letter + 1 optional recommendation letter
- $200 USD application fee
The goal of the Cornell MBA admissions committee is to assess your background and career objectives, while determining if your specific brand of professional drive is a good fit for the school's culture. If you have the opportunity, speak to alumni, reach out to the admissions department, and visit the campus before applying.
---
5. Cornell MBA includes a required summer internship
In the summer between semesters two and three, all two-year MBA candidates must complete an immersive internship. The goal of the internship is to provide hands-on experience that will lead to valuable skill growth, as well as full-time employment in your chosen industry, upon graduation.
To that end, Cornell's Career Management Center provides alumni networking opportunities, résumé critiques, mock interview practice, and other tools to help you land a valuable internship.
---
Read: Cornell MBA: One Year MBA vs Two Year?
---
6. Most Cornell MBA students come from finance backgrounds
In total, 46% percent of Cornell MBAs have a business background, and 30% of Cornell MBAs come from the financial services industry. While this may not sound surprising for a business school, this figure represents an incredibly high percentage of students from one specific background.
With an average of five years of work experience, the class of 2023 is largely attending business school to enhance existing business skills, gain specialized expertise, and continue their finance or fintech careers–likely due to Cornell MBA's focus on STEM and analytics.
---
7. Cornell offers a STEM-Designated MBA with Cornell Tech
Cornell's two-year, full-time MBA offers the option for students to earn a STEM Master in Business Analytics (MSBA). The STEM designation creates a path for students to pursue specialized careers in management science, data analytics, and tech.
During students' third semester, they will have access to over 80 specialized electives, as well as the option to take weekend courses at Cornell Tech, in New York City. Via the MSBA option, students may choose to specialize in Finance Analytics, Business Analytics, Marketing Analytics, or several other options to earn a degree tailored to their industry of choice.
---
8. Cornell's MBA class size is 304 students
Cornell Johnson's Admissions Department describes the class as a "tight-knit community," and emphasizes teamwork and mentorship over competition. This differs from other top business schools, which often have a reputation for cut-throat atmospheres.
Cornell's class size creates room for a diversity of paths and experiences. The program features over 80 clubs, plus student leadership organizations. There is ample opportunity for international travel and local leadership expeditions. Second year students are encouraged to act as coaches to first years, and faculty are able to get to know students.
---
9. Cornell's MBA class profile includes 43% international students
Representing 43 countries, Cornell's class of 2023 comes to Ithaca, NY from around the globe. Plus, the program comes with special perks for business-minded international students who wish to work in the United States.
Johnson MBA students in possession of an F-1 visa are eligible for a STEM OPT visa extension, which allows them to work in their field, in the US, for up to 36 months total. This additional 24 months of working in the United States provides students with the opportunity to gain more professional training, making their résumés increasingly competitive and desirable to US-based companies. This is excellent for professionals who wish to pursue long-term careers in the US.
Plus, this visa extension creates additional chances to participate in the annual H-1B skilled worker visa lottery.
---
10. Johnson's ODI boosts Cornell MBA class profile diversity
Johnson is one of the first top business schools to create an Office of Diversity and Inclusion (ODI) supporting underrepresented minority, LGBTQ, and women-identifying students.
And while they have a lot of work to do when it comes to improving diversity, you can see that they are starting to make some progress: women-identifying applicants make up 39% of the class this year, the same as last. The underrepresented minority (URM) student enrollment is at 16%. The Cornell MBA class profile does not provide information about LGBTQ enrollees.
---
Cornell Johnson Class Profile Takeaways
It's clear that Cornell's Johnson MBA values diversity. From the creation of the Office of Diversity and Inclusion to the large number of international students enrolled in the class of 2024, the program is demonstrating a commitment to improving the diversity of its incoming classes.
And while the Johnson MBA maintains its spot as one of the best MBAs in the world, it does so while maintaining reasonable admissions standards and a focus on community rather than competition.
---
Want help with your application?
Download our MBA Application Guide 2022