Do you want to learn the core leadership skills you'll get on a traditional MBA at a fraction of the cost? The LSE MBA Essentials online certificate course may be just the ticket.
The 10-week course is delivered fully online by the London School of Economics and focuses on the three core pillars of business leadership: the strategic environment; the financial toolkit; and the human element.
It's taught by LSE professors and delivered through a series of videos, presentations, and detailed notes. You work through the business theory and apply it through quizzes, group discussions, and weekly written assessments.
In the fall of 2020, the course attracted 352 students from around the world. Still, there are many online business courses on the market—many of them free—so why the LSE MBA Essentials? And is it worth the investment?
Read on for our comprehensive LSE MBA Essentials review, plus hear from BusinessBecause editor, Marco De Novellis, who took the online certificate course, to find out.
---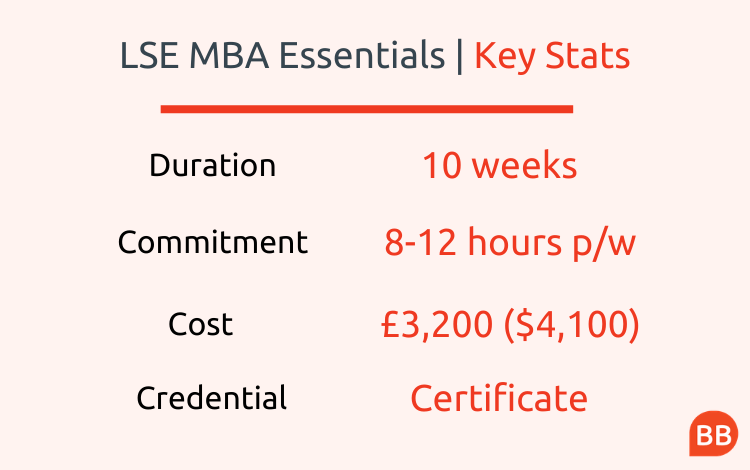 ---
Cost & Credentials
---
The LSE MBA Essentials course costs £3,200 ($4,100).
While the total cost of a traditional full-time MBA can reach over $200k, LSE's course is not a full-time MBA or an online MBA. Instead, it makes more sense to compare its tuition fees to similar online certificate courses.
Harvard Business School's online courses, for example, tend to be less expensive. These include the 10-to-12 week Credential Of Readiness (CORE), which is priced at $2,250 (or $3,760 for undergraduate credit). The course covers general management skills, although is aimed at a less experienced cohort.
When comparing similar Mini MBA programs, LSE's course is at the more expensive end. The Birkbeck Mini MBA, an in-person course offered by a rival London university, costs around $1,000.
There are also new disruptors in the market, offered by firms rather than business schools. The Quantic MBA is a free, accredited, mobile-first online MBA. ThePowerMBA, designed by business leaders from the likes of Shazam and Airbnb, costs $1,000.
Like most online courses, LSE MBA Essentials is a certificate course; not a credit-bearing course. However, it is CPD-certified, meaning it can count towards UK professionals' Continuing Professional Development.
---
Admission requirements
---
There are no admission requirements for LSE MBA Essentials. You simply pay the money and start the course. However, LSE recommends that you have some basic business acumen and numerical proficiency.
We also recommend you are comfortable reading and writing in English. The course is taught in English and students with only basic English may struggle to understand the course content.
---
Curriculum & Workload
---
So how does the course work? Modules are released on a weekly basis and you can complete them in your own time and at your own pace by a weekly deadline.
The number of hours you'll likely spend on each module will vary—from around eight to 12 hours per week—so set aside a couple of evenings and/or a day at the weekend.
For each module, you'll work through a set of notes, videos, and interactive presentations, interspersed by a multiple choice quiz, a small group discussion in a forum, and concluding with a written assessment.
Your overall grade is based on those final written assignments (63%), weekly quizzes (27%), and your written contribution to group discussions (10%).
The 10 modules are structured around the three core pillars:
---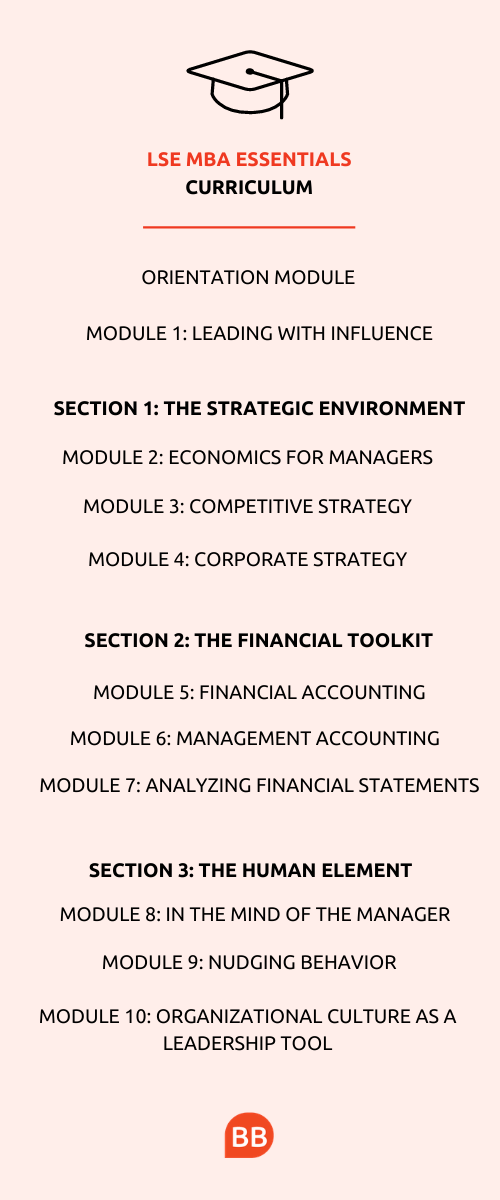 ---
The idea is that, in 10 weeks, you'll learn the MBA-level skills you need to perform better in your current role and/or your step up into a management position. If you're an entrepreneur running your own business, the syllabus gives you a solid understanding of the core management skills you need to succeed.
Most people complete the course alongside their full-time jobs. So is it doable?
---
Marco De Novellis, Editor, BusinessBecause
I found the course workload fit well around my work. It was definitely an added weekly commitment and some modules, particularly financial accounting, took a little longer than others!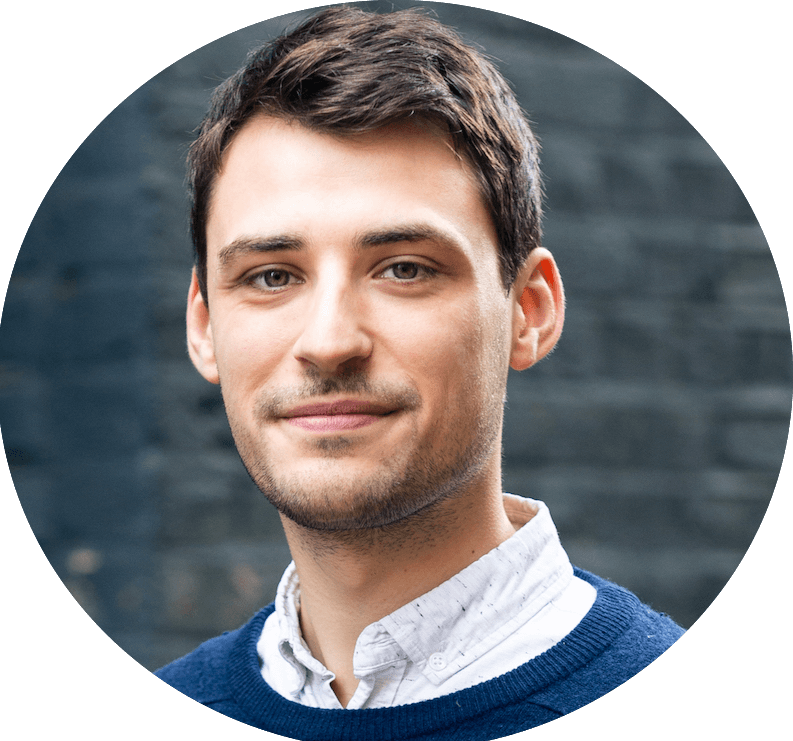 If ever I had a question on a topic or assignment, I could also reach out to my assigned tutor who would quickly come back with a response. You can also request an extension if you need one, although I never needed to.
Like any online course, you need to be self-motivated and dedicate the hours each week to get the most out of it, but the course does a good job at keeping you engaged. You're divided into small groups of around 15 people where you discuss things like Zara's business model versus GAP or Toyota's kaizen philosophy. You're then sent additional materials each week which you can check out if you want to dive deeper into a topic.
I found the written assessments especially engaging as most of these are based on real-world scenarios; talking about your own biases in the context of your workplace or analyzing Marks & Spencer's financial statements.
Reading balance sheets, applying financial ratios, assessing investment opportunities, uncovering the mess that M&S is in right now—this was the highlight of the course. It was all new material for me and I certainly didn't expect to find it so exciting!
---
Professors
---
The course is designed and delivered by LSE professors and lecturers:
Dr Connson Locke, Executive Global Master's in Management director, teaches the opening module on how to influence within an organization and the closing module on organizational culture.
Dr Jordi Blanes i Vidal, associate professor of managerial economics and strategy, teaching economics and the strategic environment.
Dr Barbara Fasolo, associate professor of behavioral science, leads modules on heuristics, biases, and nudging.
Khamid Irgashev, a charismatic ACA and ACCA chartered accountant and LSE lecturer, teaches all things financial and management accounting.
You don't directly interact with the professors. However, you're assigned a tutor who you can speak with and a support team is on hand throughout the course to answer any further questions you may have.
---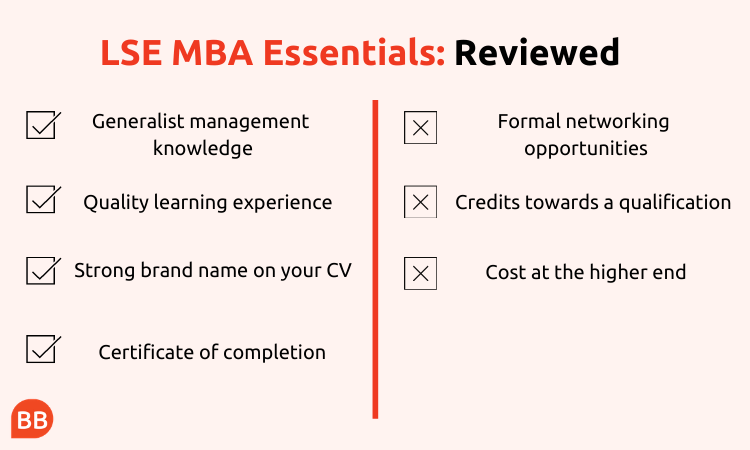 ---
Class Profile & Networking
---
Marco De Novellis, Editor, BusinessBecause
I was very impressed with the diversity of backgrounds and wealth of experience on the course. My classmates included investment bankers, non-profit leaders, entrepreneurs, software engineers, product managers; some people with over 20 years' experience.
This only enhanced my learning experience as I could make use of the diverse range of perspectives in the class and learn from my more experienced classmates. Participants also came from all over the world—United States, Europe, Australia, the Middle East—and I didn't expect that level of diversity.
What I noted is that several participants were using the course to dip their toes in the MBA curriculum and experience what an MBA-style course was like before deciding whether to commit to a full MBA degree.
---
LSE MBA Essentials isn't going to facilitate networking between classmates like a full-time MBA does. There are group discussions in forums, but there's no group work as such.
The course provides the functionality to make an online profile and privately message people, but you're never required to communicate with your classmates beyond written posts in the forums.
If you want to remain in contact with your classmates, you'll need to take the initiative and reach out independently.
---
LSE MBA Essentials | Is it Worth it?

Marco De Novellis, Editor, BusinessBecause
LSE MBA Essentials was an eye-opener for me. You start noticing things at work—about interactions between colleagues, organizational culture, and accounting processes—that you maybe didn't before. All the theory you learn is made relevant to the real world and your own experiences.
LSE MBA Essentials is not an official qualification. You get a certificate in the post, but it's not a credit-bearing course. However, LSE's strong brand name makes it a nice addition to your CV.
Just enrolling on the course isn't going to get you a new job or lasting connections with your classmates like a full-time MBA might. This is very much a personal, self-study experience.
At over $4k, the online certificate course is on the upper scale in terms of price, but if you're looking to acquire generalist management knowledge to support your career growth and want to bolster your CV with a good brand name at the same time, I'd say it's more than worth the investment.

Next Read:
Is An Online MBA Worth The Money?