Almost three quarters (70%) of business school candidates still want to study abroad despite the coronavirus pandemic, according to new Graduate Management Admission Council (GMAC) research released today.

The number of candidates who say they are very concerned about COVID-19 also fell from 41% to 33% between July and December in 2020, GMAC's latest Prospective Students Survey reveals. GMAC surveyed 2,515 candidates planning to enroll in a graduate business school program in 2021.

Sangeet Chowfla, CEO of GMAC, said: "As vaccines become increasingly available prospective students around the world are seeing light at the end of the tunnel regarding the global pandemic."
---
% of candidates reporting concerns over COVID-19
Figures relate to the percentage of survey respondents who reported having concerns over COVID-19 each month between July and December 2020.
---
International candidates reject remote study
A major reason for international candidates' not wanting to change their travel plans is the desire to live and work abroad during their careers.
Over 40% of international applicants surveyed say their primary career motivation is to work abroad, while 38% cite living abroad as their main motivation. Many feel their plans would be affected by foregoing an international degree.
While schools have adapted to offer remote learning, and business school applications have risen during the pandemic, some prospective students feel remote study does not offer the same career opportunities as an in-person qualification.
28% of international candidates said remote courses offer fewer career opportunities, compared with 19% of domestic candidates. International students also often cite the on-campus experience as a major part of studying an MBA.
---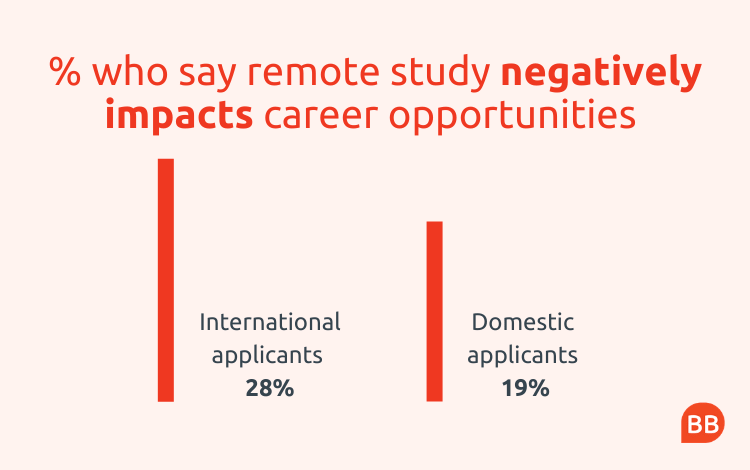 ---
Domestic candidates are more than twice as likely to consider online learning as their international counterparts. 31% are willing to study online compared with just 14% of international candidates.
---
Women more adaptable to online learning
The survey found men and women differ when it comes to accepting studying online.
Just 18% of women surveyed said they felt career opportunities were worsened by studying online, while 28% of men said the same. As a result, 50% of female respondents were willing to complete more than 30% of their program online, while just 43% of men agreed.
Sangeet hailed the adaptability of the female respondents to the survey.
"It is especially encouraging to find female candidates seeking advanced business degrees or career advantages despite the unique challenges and barriers they face due to COVID-19."
---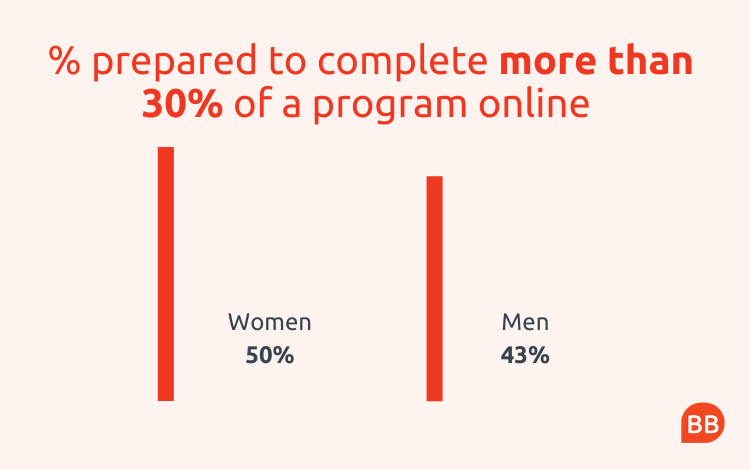 ---
While more men are worrying about career opportunities, a difficult post-pandemic job market has seen candidates increasingly feeling the need to enroll in a business school program to ensure they have the required skills and qualifications to be successful.
Over a third of prospective candidates said the skills gap was their reason for applying to business school in 2021. Among business master's applicants that number rose as high as 50%.
Soojin Kwon, GMAC board director and managing director of the full time MBA program at Michigan Ross School of Business, believes candidates are well aware of the need to upskill.
"COVID-19 has fundamentally disrupted the future of work and the skills that are required for future success," he says.
"This is something that business schools are fully aware of and adapting to as candidates seek to upgrade their professional and leadership skills to meet the demands of the rapidly changing workplace."
---
US remains candidates' preferred destination
The United States remains the top country for business school candidates who are still looking to study their degree abroad in 2021.
Students from Canada, India and the UK list the US as the primary country they would consider to study abroad. Another popular destination was France, with both Germany and Italy listing the country as their preferred foreign destination.
Students from Greater China overwhelmingly chose the UK as their premier study destination, with 27% of applicants seeking to study there.
21% chose the US, despite a recent uprise in anti-Asian hate and racism, while just 7% said they wished to remain in China.
---
Next Read:
The 6 Easiest Countries To Get A Work Visa