75% of business schools now use virtual classrooms, up from 51% at the end of 2020, according to a new report by the Association of MBAs (AMBA) and the Business Graduate Association (BGA).

The study, conducted in partnership with virtual classroom developer Barco, found the sudden shift to online learning sparked by coronavirus is unlikely to be temporary.

83% of business school leaders who responded to the survey said the pandemic triggered major changes to their school's long-term strategy.

"Business school leaders are now seemingly confident that blended and hybrid models will replace the traditional classroom-based delivery of courses over the next five years," comments David Woods-Hale, director of marketing and communications at AMBA and BGA.

It's a significant shift that business school leaders believe will offer new opportunities for flexible learning—but tech facilitated teaching is not without its challenges.
---
Growing investment in digital teaching
84% of the 171 business school leaders surveyed said they want their school to retain the new technology that has been introduced since the start of the coronavirus pandemic.
This technology, which includes virtual classrooms and online learning platforms, will likely be a key investment in coming years. When asked about their investment strategies over the next two years, 67% of survey respondents said that 'flexibility of learning' was a priority area.
92% believed that digital teaching methods are effective at delivering this flexibility, and 82% plan to invest more in edtech—technologies that facilitate teaching and learning, particularly in remote or hybrid settings—over the next two years.
Developing virtual and hybrid classrooms was schools' main priority, but at least 25% of schools, like INSEAD, have also implemented virtual reality (VR) tech to further leverage digital learning.
Across the board, the bulk of edtech investments were put behind MBA programs. 83% of business school leaders say they invested 'a lot' or 'a moderate amount' in digital teaching methods for the MBA.
---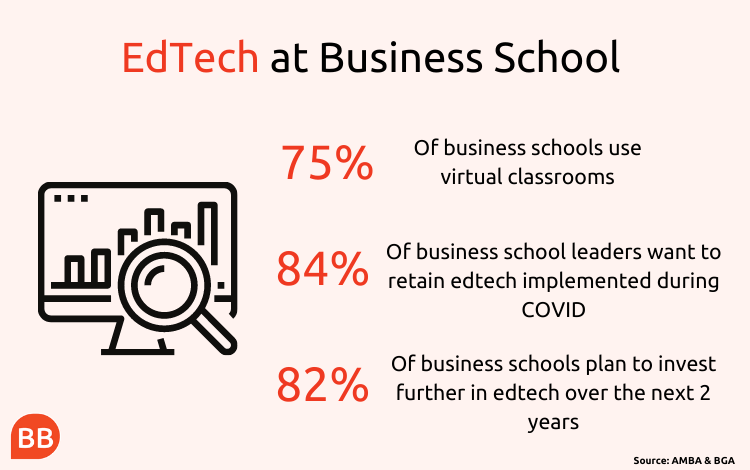 ---
Advantages of digital learning
According to business school leaders who participated in the AMBA study, digital learning has some significant benefits.
74% cited reduced student travel as an advantage, while a further 66% identified the ability to record sessions as an advantage.
The opportunity for international collaboration emerged as another key benefit. 70% of respondents said being able to work more easily with international groups was an advantage of synchronous online teaching—teaching that takes place 'live,' with all participants joining a session at a set time.
In general, this synchronous approach to digital learning was favored by business school leaders. 61% believed that synchronous digital teaching was the same, somewhat better, or much better than a traditional in-classroom experience.
Conversely, 46% believed the same of asynchronous teaching, which does not take place in real time.
---
Neoma Business School uses VR to offer remote job fairs © Neoma Business School via Facebook
---
Working with edtech limitations
Despite the widespread investment and enthusiasm, MBA employers retain some reservations about online learning.
Business school leaders also remain wary. In the AMBS study, 38% said that synchronous online learning was somewhat or much worse than in-classroom learning. Over half of respondents—54%—believed asynchronous teaching was worse.
Both versions of online learning also come with similar limitations, the AMBA study revealed.
"As this report shows, challenges in online learning delivery persist, particularly in student engagement and feedback," comments Simone Hammer, global head of marketing teaching and training at Barco.
55% of respondents found that identifying gaps in student knowledge was an issue with synchronous teaching, while 69% thought this issue applied to asynchronous teaching.
The second biggest problem was getting feedback from students on whether they understood the topic. 45% believed this was an issue for synchronous teaching, and 65% saw it as an issue for asynchronous teaching.
But for business school leaders, the added flexibility of online learning outweighs these issues, and over the next five years blended or hybrid models of teaching look set to become the norm.
"Blended and hybrid programs are the ones that will deliver learning flexibility," Simone concludes.
---
Next Read
5 MBA Admissions Trends For 2022 | How Competitive Is Your Application?