Only a third of recruiters value graduates from Online MBA and business master's programs the same as their in-person counterparts, according to the Graduate Management Admission Council's (GMAC) 2021 Corporate Recruiters Survey.

While MBA salaries and hiring are returning to pre-pandemic levels, 37% of employers surveyed by GMAC do not value graduates from online programs as highly as those who studied in person.

If Online MBA programs are less valued by employers, what else do they have to offer?
---
Online vs Full-Time MBA
---
In 2020, 84% of Online MBA programs registered substantial growth in applications and the pandemic is responsible in part. GMAC found that over 20% of students were more likely to consider online learning as a result of COVID-19.
---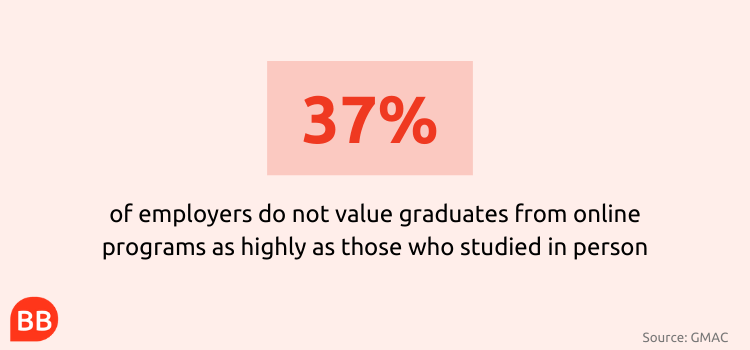 ---
However, companies that regularly employ MBA grads appear uncertain as to whether these programs can help students develop the broad skill set needed for long-term success.
MBA recruiters in the technology industry are the least likely to view graduates from online programs the same as their on-campus counterparts, with 28% of tech companies surveyed by GMAC reporting that their organization values grads from both programs equally.
GMAC data shows that finance and consulting companies equally prefer in-person grads. 41% of finance recruiters and 34% of consulting firms say they value Online MBA grads and traditional MBA grads the same.
These industries are top employers of MBAs, and it's possible that Online MBA graduates could struggle to pivot into these sectors when they graduate.
Some students also see the limitations of online learning. For one MBA at Grenoble École De Management, transitioning from full-time to online study during the pandemic was a challenge.
"An in-person class is more dynamic and can take a different route. An Online MBA is not as valuable to the student and you should not pay the same," they say.
---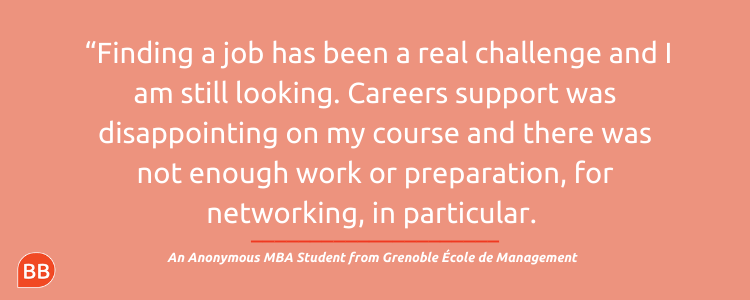 ---
Securing employment in a new region has also been tricky. "Finding a job has been a real challenge and I am still looking," they report.
However Susan Nallet, director of student experience and employability at Grenoble École De Management, explains that the school continued to provide career support to students throughout the pandemic. There were more than 100 workshops and events.
"To date, 83% of 2019-2020 graduates from the MBA have secured job roles, including 67% less than 2 months after graduation," Susan says.
For the new academic year, programs at Grenoble will be primarily face to face with some elements of virtual delivery.
---
Benefits of an Online MBA
---
While full-time students forced to study online may be underwhelmed, ultimately Online MBA programs are targeted at a different profile of student.
Online MBA students typically have different career goals; they may be more experienced than full-time students, looking to upskill and advance their career within their current company rather than land a new job.
Recruiters may naturally recruit from full-time programs, but this doesn't diminish the value of the Online MBA.
Perhaps the biggest advantage of online learning is the flexibility, with most students combining study with full-time employment.
---
Considering an Online MBA?
Download our BusinessBecause Online MBA Guide 2021
---
Soo Fang Lim is a pharmacist who used the Online MBA at Nottingham Business School to broaden her business and management knowledge.
"Online learning provides numerous ways to learn and interact through video lectures, real-life case studies, and group assignments. The experience is comparable to the on-campus MBA but in a more flexible format that allowed me to study anytime to fit around my busy working schedule," she says.
Online learning can open up opportunities to those who may not have had the time, physical ability, or finances to pursue higher education in the past, women and under-represented minority students in particular. According to GMAC, 85% of Online MBA programs saw an increase in applications from women in 2020.
"As business schools continue to evolve modalities and more candidates are able to access MBA and business master's programs through online delivery, this presents the graduate management education community with an opportunity to align expectations and outcomes for graduates and corporate recruiters," says Sangeet Chowfla, president and CEO of GMAC.
---
Next Read:
What's The Future Of The Online MBA?