McKinsey & Company is one of the most popular career destinations for aspiring consultants, and ranks among the top employers of MBA graduates globally.

McKinsey recruits from many of the top US business schools, such as Columbia Business School and Chicago Booth, as well as European business schools, including the likes of INSEAD and London Business School.

The firm is popular among b-school grads, offering some of the largest salaries in the consulting industry. In 2023, McKinsey consultant salaries have increased along with the other Big Three consulting firms.

So what do you stand to earn at McKinsey?
---
McKinsey Consultant Salary & Bonuses
McKinsey consultant salary prospects are particularly strong for MBA graduates, who can expect a base salary of $192,000. Master's graduate salaries at McKinsey aren't quite as strong, but still come in at an impressive $112,000.
Compensation doesn't end at salary. MBA graduates at McKinsey can earn performance bonuses up to $45,000, and a signing bonus of $30,000. For master's graduates, performance bonuses cap at $30,000, with a signing bonus of $5,000.
These numbers are just starting salaries. McKinsey consultant salaries and bonuses tend to grow by 10-to-20% each year, according to ManagementConsulted. Each promotion to a higher level will also coincide with a salary leap.
Master's-level hires tend to come in at the McKinsey business analyst salary level while MBA hires come in at the McKinsey associate salary level.
Two-to-three years out of an MBA program, McKinsey manager salary prospects are around $220-to-$240,000 in base salary and $100-to-$140,000 in bonuses.
A McKinsey associate principal salary sits at around $275-to-$350,000, while McKinsey partner salary prospects start at around $375,000 and go up to $500-to-$700,000 for a senior partner with potential bonuses of over $500,000.
You'll find similar colossal consultant salaries across all the Big Three consulting firms: Bain, Boston Consulting Group, and McKinsey.
---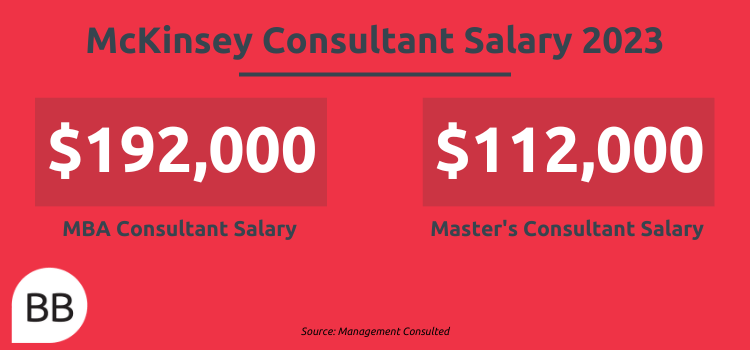 ---
McKinsey Careers
The perks of working at McKinsey don't stop at the hefty salary and bonuses. Glassdoor ranks McKinsey in its top 25 companies to work for, a strong indicator of its appeal to MBAs, and McKinsey offers a variety of jobs for MBA graduates.
Both MBA and master's-level hires at McKinsey get PTO vacation of 19 days per year. Master's grads can also receive up to $5,000 for relocation, while it's $10,000 for MBAs.
One big differentiator is for returning MBA interns, for whom McKinsey will pay 50% of MBA tuition fees. McKinsey also makes a 401(k) retirement contribution of 7.5% for MBA consultants.
If your head has been turned for a role at McKinsey, make sure you do your research and think about your personal fit. Business school students turned McKinsey consultants interviewed by BusinessBecause say the learning doesn't stop once you've landed a job at McKinsey.
"Be super prepared for the process. You need to talk to people who did it before, practice cases, and be at the top of your game for the interviews. Every consulting company has its own fit, so you need to know if your profile and skills are right for the company you are pursuing."
Anna Navratil, Emory Goizueta MBA:
"You're using the summer to really build those relationships. Bring your full self—a lot of people see the internship as the company deciding if you're right for them, but it works the other way too. The big things to focus on are coming in prepared to learn and grow; having the humility to know you don't understand everything; and tapping into the broader network of the firm."
---
How to get hired by McKinsey
We asked Brian Rolfes, global recruiting partner for McKinsey & Company, what McKinsey looks for in potential consultant hires.
Brian looks for the same three main qualities in any candidate: problem solving, the ability to work in teams, and the ability to develop strong relationships. "These are at the core of what our consultants do every day and how we work with our clients," Brian says.
He also looks for soft skills—"I encourage them to focus on their aptitude for collaboration, teamwork, empathy, and leading others. In the long run, those are qualities that make for success."
Digital skills—knowledge of coding, programming, and other aspects of tech will help candidates stand out.
And Brian values candidates who bring personality to the interview—""Think of examples of when you led a project, solved a problem, or used your entrepreneurial mindset. This portion of the interview is a great opportunity for candidates to stand out, show who they are, where they excel and what's not on their CV."
---
Read more on Consulting Salaries For MBA & Master's Graduates
---
The data in this article was sourced from ManagementConsulted's 2023 Consulting Salary Report. The salary figures in this article are for those joining management consulting positions in 2023. This article is updated annually.