Google is ramping up its efforts in the online learning space, partnering with online learning platform Coursera to offer Google Career Certificates.

These online certificate programs are designed to help you upskill and advance your career or land a new job in what Google has identified as high-growth fields.

Google certificates join the likes of The Quantic MBA and ThePowerMBA in providing alternative routes to business education.

So what can you gain from Google Career Certificates? What subjects do they cover? And are they worth the effort or the cost?
---
Google Career Certificates: What are they?
---
You don't need a degree to pursue Google Career Certificates, which are delivered entirely online on Coursera.
Google already offers certificates in IT support and IT automation and has recently launched three new career certificates in data analytics, project management, and user experience (UX) design.
The courses are flexible, require under 10 hours of flexible study per week, and they use hands-on projects and direct employer connections to help you grasp the requirements of the subject area. They can be completed in less than six months.
In creating these courses, Google had certain priorities. Each program had to provide a path to a high-demand job with high entry-level wages, be in an area where Google has expertise, and be able to be taught in an online format.
---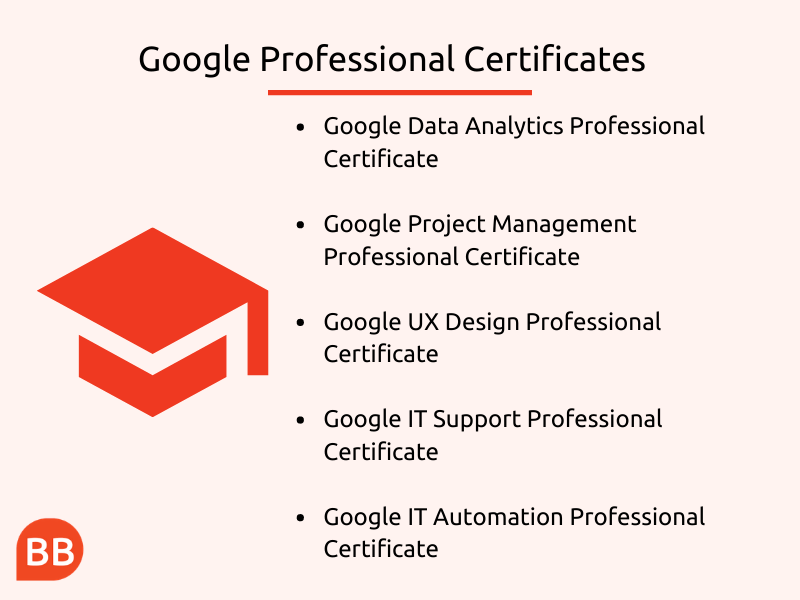 ---
Google Career Certificates: Are they worth it?
---
Cost
The majority of MBA courses come with a sizeable financial investment. On average, the total cost of a top-ranked MBA is $168,000, according to BusinessBecause research.
Google's certificates cost around $240 and allow you to learn new skills as part of the 'Grow With Google' initiative rollout. 'Grow With Google' is a scheme created by the tech giant in order to close the digital skills gap by providing training, tools, and expertise at a lower cost compared with traditional higher education.
---
Read our student review of the Google Project Management Certificate
---
Google scholarships
Google also provides a host of means-based scholarships to students who need them. With over 100,000 scholarships up for grabs, it seems that Google is eager and willing to make the tech industry accessible to a whole new demographic.
When applying for financial aid, you are assessed on educational history, annual income, employment status, career goals, and how much you can afford to pay.
---
Less time learning, more time earning
Google Career Certificates can take less than six months to complete and students can apply their knowledge at the same time and increase their earning potential. The average entry-level salary for roles across the certificate fields is $63,600.
With undergraduate courses taking three-plus years and MBA education taking upwards of a year, these courses may be attractive to someone looking to study and earn and gain the necessary qualifications to climb up the career ladder quickly.
According to Coursera's Learner Outcome Survey, 82% of Google certification holders reported a positive career outcome within six months.
---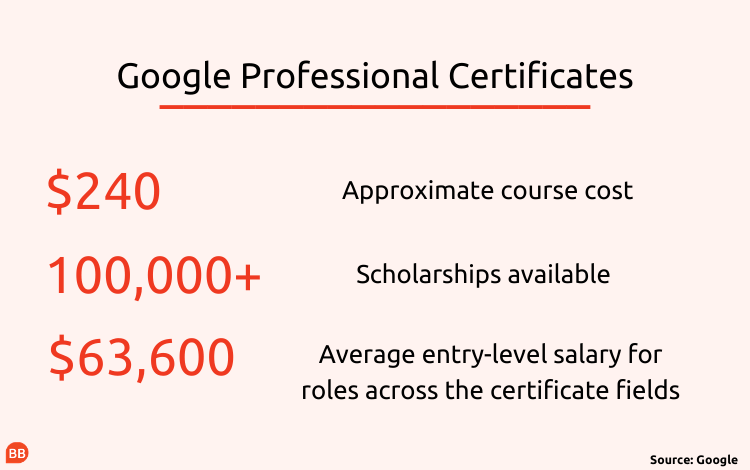 ---
Career support
The ability to network and grow alongside your peers is a huge draw for traditional graduate management education programs. Careers services also tend to be highly personalized and a short, distanced course like a Google Career Certificate neglects that personal touch.
The 'Grow With Google' plan does however come with a Google Search feature making it easier for people to find job roles for their education level and experience. Google has also partnered with a variety of high-profile companies in order to create the best possible career opportunities for those completing their certificates.
Since 2017, Grow with Google claims that more than five million Americans have grown their businesses and careers with assistance from the programs and resources that Google has to offer. Bayer, Deloitte, Verizon, SAP, Accenture, Intel, and Bank of America have all committed to hiring Google Certificate holders over the next few years.
Google has also partnered with Guild Education, a learning technology company that helps develop education programs for companies like Walt Disney, which in turn will be able to offer the Google's professional certificates as a tool to upskill their workforce.
Google also offers access to career resources like coaching sessions, mock interviews, and a resume builder tool to help students.
---

Like most Coursera courses, Google Career Certificates are not comparable to business school degree programs. You won't get the same immersive experience, network, or boost to your CV.
Google Career Certificates are comparably cheap and Google's needs-based scholarship offering makes them even cheaper. If too many people pursue Google certificates, there's a chance these credentials could become all too common, impacting their value.
Yet Google Career Certificates aren't easy to complete, and can therefore set certificate holders apart from their colleagues.
Lisa Gelveber, vice president of Grow With Google, describes them as 'rigorous' and stresses that many students stumble at the first assessment hurdle. There are more than 100 assessments for each course.
If you're looking to upskill via a self-paced online course while keeping financial investment to a minimum, you might find a Google Certificate more than worth the effort.
---

Next Read:
Are Coursera Courses Worth The Effort?