There is a growing recognition that one degree will not last a lifetime in an era of robotics and automation, longer lives, later retirement, more frequent career switches, and more uncertainty.

Online learning may be the answer to lifelong learning. Udemy, founded in 2010, is a digital learning platform that has grown to 50 million students globally. But is Udemy worth it?

Read on to find out or skip to a section of interest by clicking one of the links below:
---
---
Udemy Cost
Udemy is an open marketplace where anyone can teach anything and charge for their courses. Udemy course prices start relatively low: $10 for new users.
The most expensive courses on Udemy are currently $199.99, although you can often find coupon codes online with savings of up to 90%. You can pay in your own currency, which could reduce the cost further.
---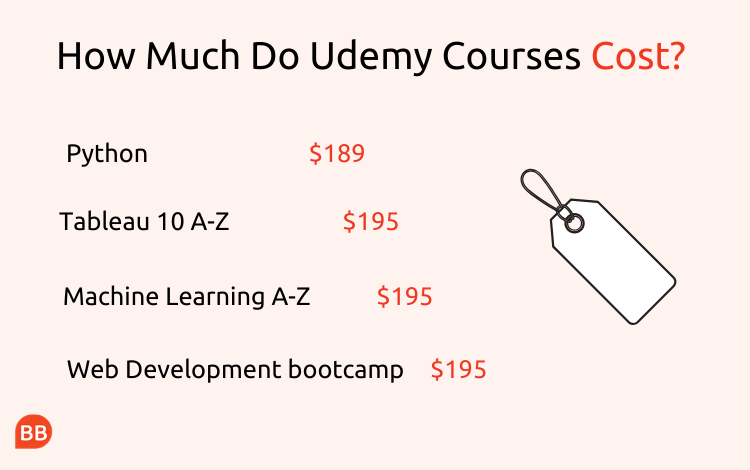 ---
There are also websites where you can access Udemy courses for free, although these sites may not provide them same level of experience.
If you complete the official Udemy courses, you'll earn Udemy certificates of completion, which you can share on your LinkedIn profile, for example.
While certificates of completion help demonstrate your accomplishments, Udemy is not an accredited institution and so the certificates cannot be used for formal accreditation.
---
Udemy Courses
On Udemy, you can upskill in virtually any subject. Here's a few of the most popular courses on Udemy, how long they take, and how much they cost. The best courses tend to be the more expensive, but prices are variable and Udemy periodically offers up to 90% discounts.
41 hours, $195
Learn to create Machine Learning Algorithms in Python and R from two leading data science experts Kirill Eremenko and Hadelin de Ponteves.
24 hours, $189
This comprehensive course teaches you how to use Python to analyze data, create visualizations, and use powerful machine learning algorithms.
Udemy Web Development Bootcamp
47 hours, $195
This course will teach you web development, including HTML, CSS, JS, Node, and more!
15 hours, $130
This Microsoft Excel course combines four different courses including: An Introduction to Excel; Intermediate Level Excel; Advanced Level Excel; Master Microsoft Excel Macros and VBA in 6 Simple Projects.
45 hours, $195
Learn to develop, test, and deploy reactive web apps using Angular, with expert instructor Stephen Grider.
7 hours, $195
Learn Tableau 10 for data science with real-life data analytics exercises and quizzes included, from the data science expert Kirill Eremenko.
---
Udemy: Pros & Cons
A key advantage of taking a course on Udemy is the flexibility to learn when, where and what you choose, at your own pace. Udemy has 250,000 courses on virtually any subject, ranging from data science to leadership, and they are often current.
---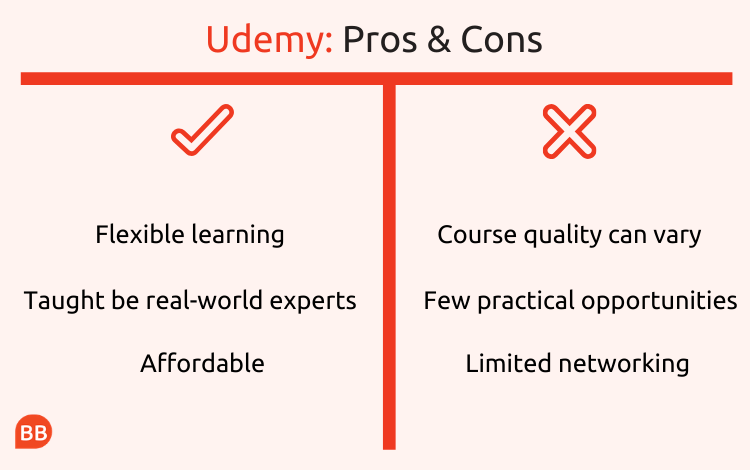 ---
"Students turn to Udemy when they need to learn new skills for work and life," explains the organization's VP of learning, Shelley Osborne.
Udemy's 57,000 instructors are teaching in more than 65 languages all over the world, and many are practitioners rather than academics. "Our instructors are real-world experts who practice their craft every day, and teach skills that can be applied right away," says Shelley.
According to Shelley, Udemy does not aim to replace or replicate traditional degrees such as an MBA. "For most working adults, it's a lot more convenient, practical, affordable, and effective to watch a video to learn something specific right in their moment of need. Most individuals aren't going to return to school for a degree just to do that," she says.
However, Anne Trumbore, senior director of Wharton Online, says that while Udemy is great at giving people low-cost options to pick up a new skill, with so many courses of varying lengths it can be hard for learners to judge quality and fit with their goals.
While MBA courses teach both theory and its application, she doesn't see Udemy being able to do that to the same degree.
And, by virtue of being online, Udemy courses do not have as many face-to-face networking opportunities as business school courses on campus do. The chance to forge networks with diverse peers is a key advantage to going to business school.
---
Udemy for Business
Udemy also has a B2B arm called Udemy for Business, which allows companies to upskill their staff through Udemy courses. If you work for a company with Udemy for Business, you'll be able to study Udemy courses for free!
Udemy for Business has 5,000 business customers, such as Lyft and Pinterest, and including 80% of the Fortune 100. It gives companies unfettered access to some 3,500 courses anytime, anywhere, with employers monitoring staff engagement and tracking learning outcomes.
A report from Udemy and IDC, a research company, found that companies can recoup their investment in two months and gain over $4 million through increased productivity, time savings and higher revenue using Udemy for Business.
"Our model allows us to continuously meet the skill demands of diverse markets and industries and help to ensure that employees are learning the right skills for their next project or role," Shelley says.
---
Udemy for Business cost
Udemy for Business comes in two plans, for smaller and larger-size businesses.
The Udemy for Business Team Plan is priced as an annual subscription at $240 per person per year. You cannot pay monthly. A minimum of five users is required, so it costs businesses $1,200 at the very least.
The Enterprise Plan is designed for organizations of 21 or more people. This includes more advanced analytics. The price is tailored for each client company. Both plans offer a 14-day free trial.
---
So, is Udemy worth it?
If you have an interest in a subject and are ready to commit yourself to an online course, then Udemy is certainly worth it.
Udemy courses are affordable and often discounted. Completing an Udemy course also shows employers that you have an interest in a subject and are willing to develop yourself.
However, a Udemy course does not equal a business school degree. It will not open doors to new networks and career opportunities in the same way business school does.
Udemy is more a place to learn hard, practical skills (like coding) which can complement your business school education. Completing certain online courses on Udemy will also add to your profile when applying to business school.
---

If you're looking for an affordable, flexible lifelong-learning option, Udemy could be an ideal fit. With 250,000 courses to choose from, you can learn virtually any new skill, from Python to web development.
However, because anybody can teach on Udemy, it's important to do your research before you commit to a course.
It's also worth bearing in mind that Udemy courses aren't designed to replace a traditional on-site degree, and won't offer the same benefits of personal feedback and networking opportunities.

---
Udemy is not the only provider of online courses. Check out our guide to rival MOOC-platform Coursera.