If you enter a company boardroom today, you're most likely to see more men than women.
Women have made significant strides in corporate America, yet they make up only 21% of C-suite positions in the US. Reaching an executive leadership position is no easy feat, but higher levels of education—such as an MBA—can help equip women with the skills and network needed to break into the boardroom.
According to the Forté Foundation, 40% of female C-suite leaders have an MBA. But how can an MBA fast-track your journey up the corporate ladder?
With a record number of women enrolling in MBA programs in 2021, BusinessBecause caught up with two women in prominent C-suite positions to find out how an MBA helped them grow into their leadership roles.
---
Sophie Bambuck: Georgetown MBA to Everlane CMO
For Sophie Bambuck (pictured), chief marketing officer (CMO) at Everlane, an ethical clothing retailer, studying for an MBA meant learning how a business works from top to bottom.
Before her MBA at Georgetown University's McDonough School of Business, she managed an art studio, but deepening her business insights during the MBA is what helped her advance to a C-suite position.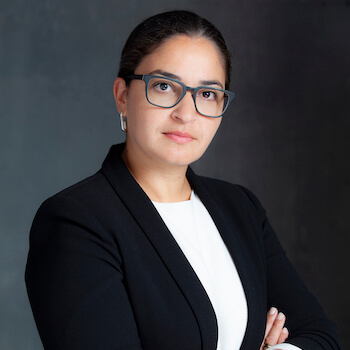 The curriculum enabled Sophie to learn more about statistics, consumer behavior, and macroeconomics, so that she was able to grasp a general knowledge of how the business world works.
"I recommend the MBA for people who want to enter the world of marketing or finance," she says. "My MBA was a fantastic transition point."
Georgetown's 21-month, full-time program also has over 100 electives to choose from, including Data Visualization, National Security, Coaching and Leadership, and Startup Factory.
Sophie's time in the MBA allowed her to tap into a far-reaching and diverse network—crucial for career development. Alongside networking with her peers in the program, Sophie joined the Graduate Marketing Association and the Black MBA Association. Through these extracurriculars, she developed her leadership skills by organizing and leading conferences with different speakers.
"Georgetown also had frequent on-campus networking events," she adds. "You really had the opportunity to connect with the alumni and the Georgetown network organically."
Georgetown's MBA program boasts 10,000 alumni across 110 countries. There's a graduate business reunion at Georgetown every five years, and as an alumna Sophie can network with and recruit former students.
Career fairs also provided excellent networking opportunities. When Sophie saw that Nike had a booth at the Black MBA fair, she took the opportunity to drop in her résumé whenever she walked by. This led to Nike later offering her an internship during her studies, and eventually a full-time role as an associate brand manager.
Over a 13-year period, Sophie's role advanced to brand director, to senior marketing director, to chief marketing officer (CMO) of Converse, to vice president of Global Brand Marketing for Nike's Sportswear.
Today, she is the first CMO of Everlane. In this role, she oversees the brand's strategic direction, where she must quickly respond to consumer demand, product, supply chain, and climate.
---
Lisa Mayr: Georgetown MBA to INAP CFO
Going to business school also means accessing an inclusive environment, where you can meet allies and develop personally.
Lisa Mayr experienced this during her time at Georgetown. She's currently the chief financial officer (CFO) at INAP, a cloud solutions service. She also heads up the Georgetown MBA Advisory Council's Diversity, Equality, and Inclusion (DEI) Committee.
McDonough MBA students can attend an annual Focus on Diversity week where they benefit from a range of sessions to gain an insight into the careers and resources available to them. Scholarship opportunities—offered at Georgetown through institutions like the Consortium for Graduate Study of Management, National Black MBA Association, Prospanica, and Forté—also ensure you learn in a diverse environment.
---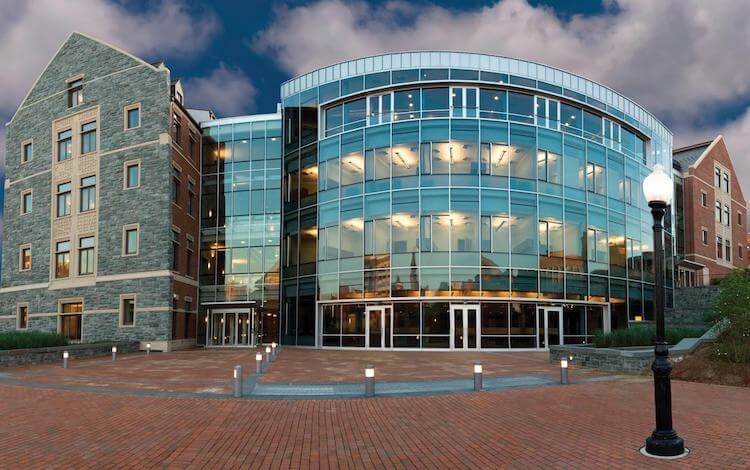 Lisa Mayr works on the MBA Advisory Council's DEI committee at Georgetown (pictured above) / ©Georgetown McDonough School of Business
---
As the chair of the MBA Advisory Council's DEI committee, Lisa works to improve the diversity of role models, faculty, and alumni speakers in the MBA classroom.
"We don't have one person that is in charge of diversity, it's an underlying thing that we do," she says. "I've been CFO four times now, and I think it's really important that we focus on the same goal and that we all value each other."
Lisa also believes an MBA can help women boost their confidence. "The obstacles are certainly still around confidence-building and having more female role models," she notes.
After her MBA, Lisa spent two years working in transaction services at PwC and later at Ernst & Young. She then moved into corporate finance and worked her way up through different roles in investor relations, private equity, and treasury, among others.
"I moved around a lot, company-wise, because I kept receiving new interesting opportunities from my network, which included my Georgetown colleagues," she says.
Lisa reached her big break when landing a role as vice president of finance at EdTech giant, Blackboard. After the CFO left, she was made the CFO of the organization.
In these roles, Lisa used the experience she'd gleaned at business school to grow her confidence. She went on to work as CFO for two more companies, EVERFI and MicroStrategy, before reaching her final position at INAP.
Despite being at the top of her field, Lisa still faced challenges as a female executive. She recalls going to the Goldman Sachs CEO and CFO technology conference during her time at MicroStrategy and realizing she was the only woman in a room of over 50 people.
"Women still aren't integrated enough," she concludes. "It really comes down to allies. When we create more allies, we create more confidence."
As the number of female business school students continues to rise, so too will the number of women in boardroom positions. It's critical that MBA programs like Georgetown's continue to expand efforts for female networking, male allyship, and DEI integration in the classroom. These resources will help women gain the confidence and leadership skills necessary to assume their seat in the boardroom—and shatter the glass ceiling once and for all.
Related Content: