The Wharton School at the University of Pennsylvania, known as the Wharton MBA or the UPenn MBA, needs no introduction. The Philadelphia-based Ivy League giant is hailed as one of the best business schools in the US and the world.
Founded in 1881, the Wharton School has built a prestigious name for itself, bolstered by its world-renowned faculty, research strengths, and stellar MBA jobs outcomes.
Not to mention that the school's reputation is boosted by its impressive Wharton MBA notable alumni, who include Sundar Pichai, the CEO of Google parent company Alphabet Inc. and former CEO of Time Inc., Laura Lang.
Aside from creating powerful business frontrunners, the two-year Wharton MBA is known for its expertise in finance. The Wharton School also sits proudly amongst the elite M7 business schools, a notoriously selective group of business schools that includes the likes of Harvard, Stanford, and Columbia.
So, what kind of return and MBA jobs can you expect from the Wharton MBA?*
---
Wharton MBA | Class of 2021
---
---
Companies hiring Wharton MBAs
---
Wharton MBA grads enter impressive careers at top companies across a range of sectors. Big Three Consultant firms like Boston Consulting Group (BCG), Bain, and McKinsey hired Wharton MBAs from the class of 2021.
Wharton MBAs also landed careers with big tech giants like Amazon, Apple, and Google, as well as major players in the finance industry such as American Express, Goldman Sachs, and Deutsche Bank.
Perhaps inspired by COVID-19 vaccine success, Wharton MBAs also secured jobs within healthcare at pharmaceutical companies like Pfizer and biotechnology firms such as Genentech.
Of the 585 Wharton MBA grads seeking employment, 99% reported job offers, showing a 5.5% increase from the class of 2020.
Around 97% of Wharton MBAs from the class of 2021 reported job acceptances.
---

---
Popular Wharton MBA jobs
---
Unsurprisingly, given the Wharton MBA program's strengths in the subject, finance is the most popular career route for grads in the class of 2021. Around 35% of MBA grads entered the financial services within areas like investment banking and private equity.
The finance career path provides high salaries and good progression opportunities, so it's a popular route for challenge-hungry MBAs.
Around 27% of MBA grads joined high-flying consulting careers, which is an increase of almost 3% from the class of 2020.
Meanwhile, technology ranked as the third most popular MBA jobs route, with roughly 19% of MBAs landing roles within tech—this is a slight increase of around 2% from the class of 2020.
In 2021, tech companies hired more MBAs than other industries like consulting and finance, which may explain the uptick in Wharton MBAs entering tech careers.
Around 5% of Wharton MBAs landed roles within healthcare, while almost 3% of grads found jobs across retail.
---
Wharton MBA jobs
---
---
Average Wharton MBA salary | Is the Wharton MBA cost worth it?
---
Considering that the average Wharton MBA cost in total is $231k, according to our Cost of MBA Report 2021, you'll be relieved to know that the Wharton MBA produces some of the world's highest paid business school grads.
In the Wharton MBA class of 2021, grads landed a median salary of $155k overall. This is a $5k increase from the previous cohort who may have faced difficulties graduating amid the COVID-19 pandemic.
The highest paying industry for Duke MBAs was legal and professional services, with the 0.9% of Wharton MBA grads who joined this sector landing a median salary of $190k. The second highest paid grads were those who entered careers within consulting, where they earned a median salary of $165k.
In third place in terms of industry, the growing fintech sector paid grads a median salary of almost $153, while across financial services grads earned $150k. Similarly, grads who found MBA jobs within the media, entertainment, and sports industry earned a median salary of $150k.
Grads in technology, the third most popular Wharton MBA career route, landed a median salary of $141k.
Many students are motivated to ace the Wharton MBA application due to the return on investment (ROI) of attending the Wharton MBA. After three years, Wharton MBAs earn an average graduate salary of $211,543 a year.
---
---
Wharton MBA career destinations
---
The US is not only one of the best places to study an MBA, but it also offers some of the best MBA jobs for ambitious grads.
The most popular regional destination was the Northeast of the US, with roughly 48% of Wharton MBAs landing jobs there. Meanwhile, around 26% entered careers on the US West Coast and almost 10% landed roles in the Mid-Atlantic.
Beyond the US, Asia was the most popular MBA career destination, with around 4% joining jobs there. Other Wharton MBA grads entered careers in Canada and Europe.
MBA grads across the US earned the highest MBA salaries, reaching a median salary of $157k. Those who ventured further afield to Asia made a median salary of around $126k while across Europe grads earned a median salary of roughly $105k.
---
Wharton MBA application success story
---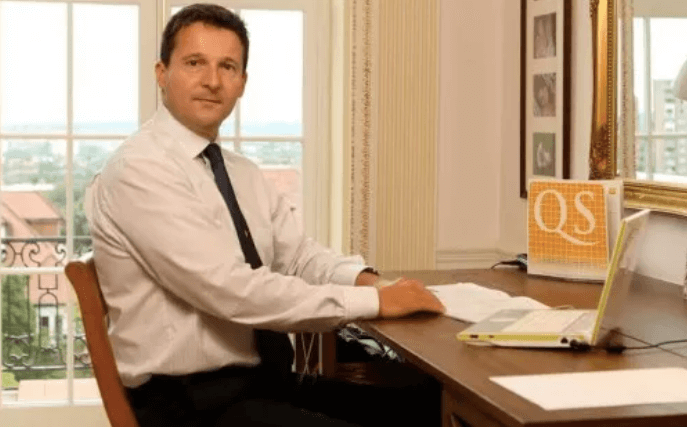 ---
Young consultant and budding entrepreneur Nunzio Quacquarelli had always wanted to launch his own business.
He was also excited by the idea of attending business school after researching the career background of the partners of the consulting firm he worked for and finding out that many had attended top business schools like Wharton and Harvard.
Spurred on by his desire to learn everything there is to know about leading a business, he embarked on the Wharton MBA in 1988.
This is where he was able to put his business ideas onto paper. His idea was to create a business school rankings platform since, at the time he was applying for business school, there were no major MBA rankings offered. This is when the plan for his higher education company Quacquarelli Symonds (QS) was born.
Since beginning his student project at Wharton and receiving business advice there, Nuzio has used his Wharton MBA to launch a successful business. QS has become a major name in the global MBA rankings space, rivalling competitors like the US News World Report and the Financial Times rankings.
---
Who is the Wharton MBA for?
---

If you're a hopeful MBA student with plans to enter high-flying careers within the traditional MBA triumvirate of finance, consulting, and tech then the Wharton MBA is sure to provide great careers links to top MBA employers in these fields.
With its strong subject expertise in finance in particular, students looking for high paying finance careers should consider the Wharton MBA.
Attending a Wharton MBA also means access to a global alumni network of successful business school grads. Plus, Wharton's prestigious brand name can go some way to opening doors for you, helping you to land some of the best MBA jobs out there.
The Wharton MBA is likely to be a good fit for you if you're dreaming about landing a top MBA job in the US, but there are also many Wharton grads who find careers in Asia and Europe.
Find out how to increase your chances of acing the Wharton MBA application.


---
Next Read:
Wharton MBA Class Profile Breakdown