The Wharton School at the University of Pennsylvania offers one of the best MBA programs in the USA and the world, and the 2023 Wharton MBA class profile is as strong and diverse as ever.

Known traditionally for its strength in finance, Wharton counts itself among the prestigious M7 business schools, an informal grouping of elite private business schools that are famously selective when it comes to admitting MBA candidates.

Out of 7,338 applications this year, just 897 students were enrolled, with the overall acceptance rate for the business school being 23.1%.

For those who make it into Wharton, the rewards can be huge. Wharton MBAs can expect to earn over $211,000 in annual salary three years after graduation.

In this BusinessBecause Breakdown of the Wharton MBA Class profile, we analyze the Wharton MBA class of 2022, covering GMAT scores, diversity statistics, and students' prior work experience.
---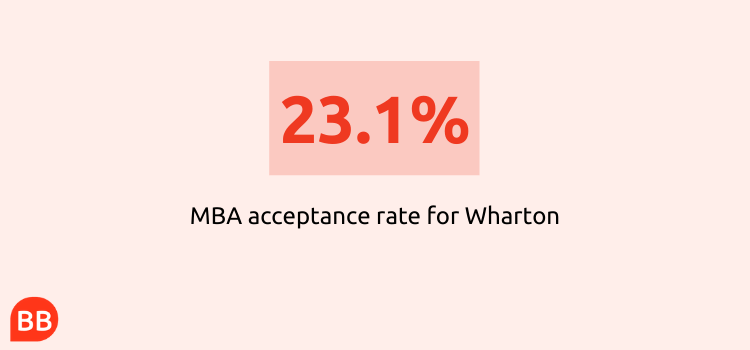 ---
Wharton MBA Class of 2023 | Overview
The Wharton MBA values diversity. Students in the class of 2023 come from 83 different countries, with 36% of the total student body hailing from outside the US. The program has nearly doubled its international diversity, up from 19% last year, and a full recovery from the year before that, when it sat around one-third.
Among the class of 2023, 7% of the MBA students are LGBTQ+, and 52% of the class are women—much higher than the average for US business schools. Among the US students on the program, 35% are from minority backgrounds.
Wharton also surveys the number of students on the MBA class enrolling in dual degree programs. The most popular dual degree programs are the Lauder Joint Degree in International Studies (80 students) and the Health Care Management dual degree (71 students). These numbers are on par with the previous years' MBA cohorts at Wharton.
---
Read: Average GMAT Scores For The World's Top MBA Programs
(Credit: jejim)

---
Wharton MBA | GMAT & GRE Scores
As with any M7 business school, GMAT and GRE scores for the Wharton MBA are typically on the higher end of the scale. While test scores will not be the sole reason you ace the Wharton MBA application, a high score could improve your chances.
The median GMAT score for Wharton MBA students this year is 740, up from last year's median of 730, and proving the strong academic prowess of Wharton students. The average GMAT score is 733.
In terms of the GRE, students averaged 162 in both the verbal and quantitative sections and 4.6 in writing. What's more, Wharton states it holds no preference for whether students take the GMAT or GRE.
---
---
Wharton MBA | Undergraduate Majors & GPA
Undergraduate majors and Grade Point Average (GPA) can be a great indicator for the kind of academic environment that will be created by your cohort when you enter an MBA program.
Different specialisms bring different thinking styles and problem-solving approaches into the classroom, and while a humanities major and an engineer might not sound like the perfect mix for an MBA project on paper, in reality they can often produce a deeply thought-out and well-rounded final product.
Wharton is strong in this area—39% of this year's MBAs come from humanities backgrounds.
Among other students, 33% have a STEM background, while 27% have a traditional business undergraduate major.
As for GPA, the Wharton MBA class of 2023 once again proves that a strong academic background can be an advantage for successful acceptance into a top MBA program. The GPA for this year's cohort is 3.6.
---
---
Wharton MBA | Pre-MBA Industry
While there is a 14-year range of work experience in the Wharton MBA class of 2023, the average number of years of work experience candidates bring to the program is five. This is slightly higher than the average for MBA programs generally, indicating a cohort of seasoned professionals at Wharton.
Though many MBAs are there to switch things up and to change their careers, perhaps by pivoting industries entirely, or by starting their own venture, the experience they bring from their previous roles will inform the conversations had with classmates, and the networks you can tap into as a student.
However, the school doesn't ask for a minimum or maximum number of years in the workforce from applicants. Instead, applicants are advised to emphasize the impact of their work experience.
With The Wharton School being one of the best business schools for finance in the US, it's no surprise that 14% of the class of 2023 come from the finance industry, and a further 14% come from private equity or venture capital. Although the most well represented pre-MBA industry among the class is consulting, at 23%.
Other industries represented by Wharton students this year include technology, nonprofits and government, healthcare, and energy. 2% of students come from the media or entertainment industries.
---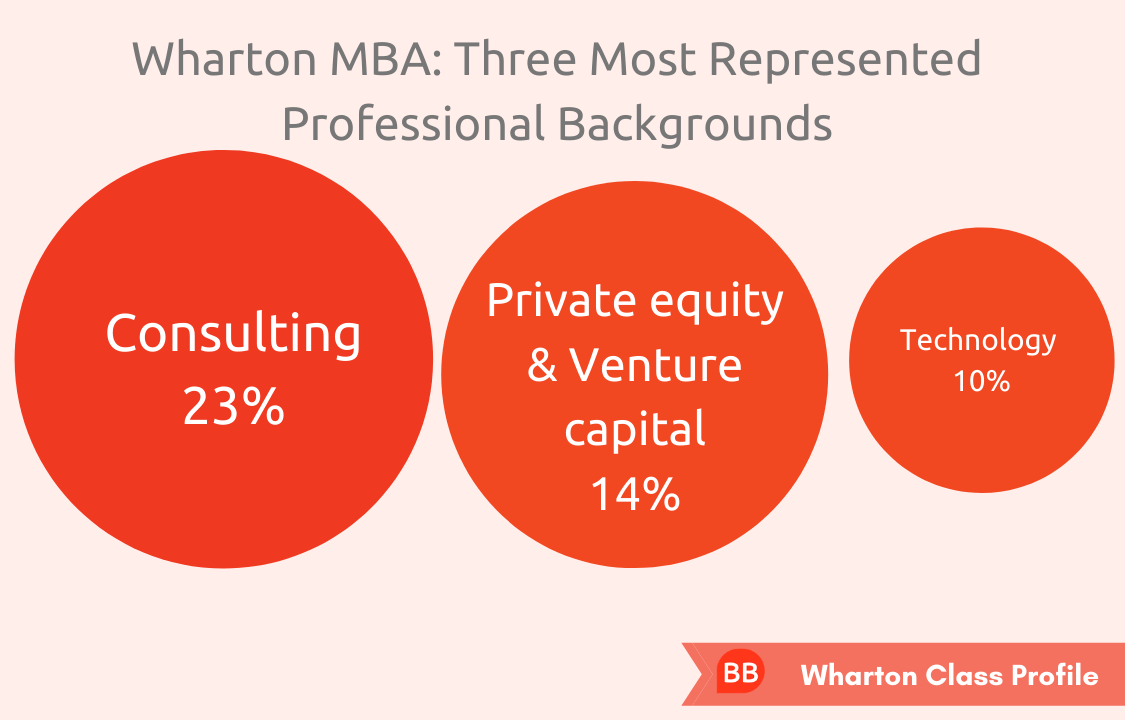 ---
Who is the Wharton MBA for?
---

The Wharton School is a strong choice for MBA candidates who wish to enter the finance industry. A strong percentage of the cohort each year come from finance backgrounds, meaning you'll be networking with some knowledgeable and well-connected financiers.
Wharton has also established a strong niche in healthcare management, thanks to its dual degree program.
There's no need to fear if you have a background in humanities, either. If you can explain what you would bring to the Wharton MBA and what kind of impact you've made in your previous career, not having a business background won't put you at a disadvantage.
As with any top business school in the US, a high GMAT or GRE score is important for competing with the best candidates. To stand out as an applicant to Wharton, you should aim for a GMAT score in the 90th percentile.
However, don't ignore the importance of other sections in the Wharton MBA application. Wharton will be judging candidates on what makes them unique, and what impact they can bring to the world with an MBA degree.

---
*Wharton MBA class profile data updated on 18/11/2021.
---
Next Read:
Wharton School Notable Alumni - 14 Famous MBAs