The Wharton School at the University of Pennsylvania offers one of the best MBA programs in the USA and the world, and the 2022 Wharton MBA class profile is as strong and diverse as ever.
Known traditionally for its strength in finance, Wharton counts itself among the prestigious M7 business schools, an informal grouping of elite private business schools that are famously selective when it comes to admitting MBA candidates.
Out of 7,158 applications to the school in 2020, less than a quarter were admitted. Wharton's MBA acceptance rate is 23.1%.
For those who make it into Wharton, the rewards can be huge. Wharton MBAs can expect to earn over $211,000 in annual salary three years after graduation.
In this BusinessBecause Breakdown of the Wharton MBA Class profile, we analyze the Wharton MBA class of 2022, covering GMAT scores, diversity statistics, and students' prior work experience.
---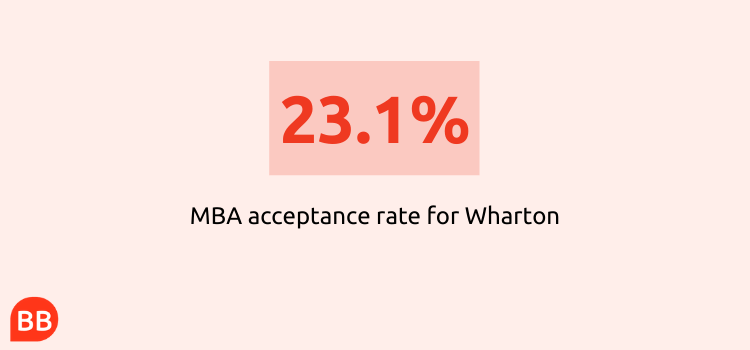 ---
Wharton MBA Class of 2022 | Overview
The Wharton MBA values diversity. Though the school does not publicize the average age of its MBAs, the experience that students bring with them to the program ranges from zero to 14 years, indicating a broad age bracket.
Almost 60% of the incoming class are from minority racial backgrounds, and the program is making strides toward gender parity with female students comprising 41% of the class, on par with other big-name schools like Harvard Business School.
However, this year was not without its struggles for the school. The proportion of women enrolled in 2020 is down on the previous year's intake, which stood at 44%, and the internationality of the course has also taken a hit. Just 19% of this year's class came to the MBA from overseas, compared to one-third last year. Even so, 70 nationalities are represented in the MBA class.
The Wharton class of 2022 is also a multi-disciplinary one and Wharton MBAs are able to take advantage of the University of Pennsylvania's other graduate schools to complete dual degrees.
This year, the most popular are the Lauder Joint Degree in International Studies (with 80 students enrolled) and the Health Care Management dual degree (with 76).
---
Read: Average GMAT Scores For The World's Top MBA Programs
(Credit: jejim)

---
GMAT and GRE Scores
Wharton stresses that there is no minimum GMAT or GRE requirement for entry into their class, and that the school has no preference for which test candidates sit.
However, as with any top MBA, a great score on these standardized tests can help you demonstrate your critical thinking and your ability to apply yourself to a task.
On the GRE, the incoming MBA class at Wharton scored, on average, 161 in Verbal and Quant sections, and 4.7 in writing. These are all competitive scores that land the average Wharton MBA within the top 25% of GRE test takers.
The Wharton MBA class of 2022 boasts a median score of 730. Given that a score of 700 lands you in the 88th percentile of GMAT takers, this is impressive, and makes a strong case for taking care with your GMAT prep during your application.
However, all is not lost if your score is slightly lower than this. Wharton's average GMAT score is 722, indicating some lower-scoring outliers somewhere in this group.
While there are other significant factors at play in your application, for instance your work experience, it's safe to say that if Wharton is your dream school, you should be aiming for a GMAT score above 700.
---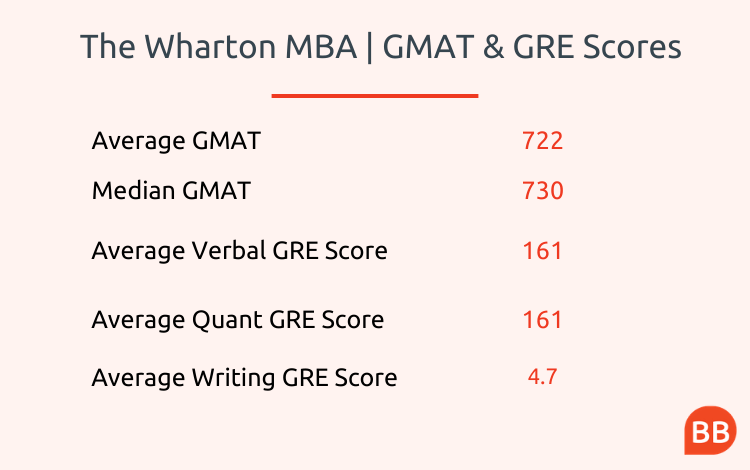 ---
Undergraduate majors and GPA
Undergraduate majors and Grade Point Average can be a great indicator for the kind of academic environment that will be created by your cohort when you enter an MBA program.
Different specialisms bring different thinking styles and problem-solving approaches into the classroom, and while a humanities major and an engineer might not sound like the perfect mix for an MBA project on paper, in reality they can often produce a deeply thought-out and well-rounded final product.
As expected from a group who score so highly on the GMAT, the 2020 Wharton MBA intake come from solid academic backgrounds, which reflect the school's reputation as a hub for learning in finance and more technical fields.
The Wharton MBA class of 2022 are split relatively evenly between backgrounds in humanities and economics (38%), business (34%), and STEM (28%), with a 3.6 average GPA overall.
This is likely to make for a focused class that skews towards the school's existing specialisms—in 2020, 36% of MBA grads entered financial services, with the next most popular industry being consulting.
---
---
Work experience
While there is a 14-year range of work experience in the current class, the average number of years of work experience candidates bring to the program is five. This is slightly higher than the average for MBA programs generally, indicating a cohort of seasoned professionals at Wharton.
Though many MBAs are there to switch things up and to change their careers, perhaps by pivoting industries entirely, or by starting their own venture, the experience they bring from their previous roles will inform the conversations had with classmates, and the networks you can tap into as a student.
At Wharton, in keeping with the most popular career outcomes for its grads, the largest chunk of incoming MBAs come from consulting backgrounds, with almost a quarter of MBAs hailing from this niche.
Outside of this bracket, however, the backgrounds vary, with a distinct trend towards finance. Private equity and venture capital, financial services, investment banking, and investment management each make up between 5% and 12% of the Wharton MBA class of 2022.
---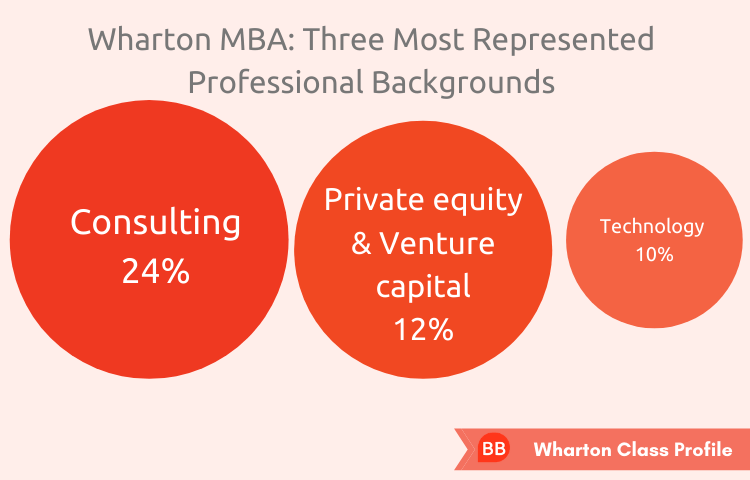 ---

Wharton remains a strong choice for candidates aiming for careers in the MBA heartlands of consulting, finance, and tech, albeit with a particular emphasis on careers in financial services.
That said, Wharton's burgeoning specialism in healthcare management, owing to the dual specialism offered in combination with the University of Pennsylvania's other graduate schools, is another pull factor. 6.7% of 2020 grads landed careers in the sector—a six-year high, and a trend that is surely set to continue.
To stand out as an applicant to Wharton, a good GMAT score is desirable, particularly one within the 90th percentile.
To get accepted into Wharton, you need to demonstrate what makes you unique compared to other applicants, and how you can contribute to the intellectually rigorous environment at the school.

---
Next Read:
Wharton School Notable Alumni - 14 Famous MBAs